Are you ready for summer? I so am! This Ombre Crochet Tank Top is the perfect addition to my summer wardrobe. When I saw the Loops & Threads Color Wheel yarn so beautifully lined up in this color order at Michaels, I knew I had to make something with it. After a few attempts and some frogging, this adorable tank top was born!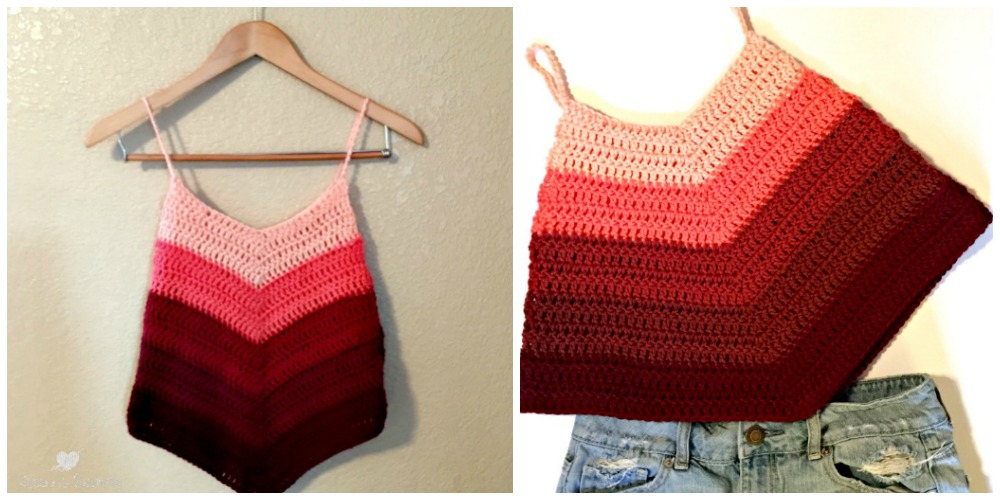 It's totally customizable and can be made in any size. As long as your starting chain is an odd number, anyone can add this tank to their closet.
The top drapes nicely and has a gradual flare from the top to the bottom. Really, any color combination would work, but I'm really loving the ombre stripes this top has.
PATTERN
Materials:
Loops & Threads Colorwheel in Light Coral, Coral, Crimson, Maroon, and Deep Burgundy – 2 skeins in each color, approximately 900 yards (any worsted weight (4) yarn would work)
5.5 mm hook
Yarn needle
Level: easy/beginner
Pattern notes & stitches to know:
sl st – slip stitch
ch – chain
dc – double crochet
Finished top measures approximately 13 inches long, 9 inches across the top at the narrowest point, 14 inches across the bust and 20 inches across the bottom at the widest point.
Pattern can be easily adjusted, you only need to be sure to chain an odd number. To decide how many chains to start with, I measure across the top of my chest, where the straps would connect.
TOP (make 2)
Ch 29 (or any odd number that would fit the desired size)
Row 1: Ch 3, dc in 4th chain from the hook, dc in first 13 chains, 3 dc in next, dc in last 14 stitches (31 dc)
NOTE: If you are making this in a different size, simply do the 3 dc in the middle stitch
Row 2: Ch 3, turn, dc in first 15 stitches, 3 dc in next, dc in last 15 stitches (33 dc)
Row 3 – 20: Ch 3, turn, dc in each stitch across to the center, 3 dc in the center stitch (this will give the "v" look down the center), dc in each stitch across the rest of the row. Each row will increase by 2 stitches.
I changed color every 4 rows.
Fasten off, weave in the ends.
Once you have 2 panels, lay them on top of each other. Sew both sides together up the side from the bottom with a slip stitch to row 12 (or wherever you'd like the armhole to start). Fasten off, weave in the ends. Turn top right side out so the seam is on the inside.
Attach the yarn for the strap to a top corner, ch 25 (or however long you'd like your straps to be) then attach it to the opposite side with a slip stitch. Fasten off, weave in the ends. Do the same for the other strap.
And that's it! So easy, right?
Looking for more patterns? Follow me on Facebook, Instagram, and Pinterest! Please share a pic of your finished product with me. I'd love to see it!
NEVER MISS A PATTERN!
Sign up for my newsletter and receive a FREE ebook with 3 of my favorite patterns PLUS patterns straight to your inbox. You'll also get a heads up about upcoming giveaways, events, and crochet alongs.