The Daydreamer Crochet Wrap Pattern is make with some of the softest acrylic yarn ever and lemme tell you… this wrap really does feel like a dream!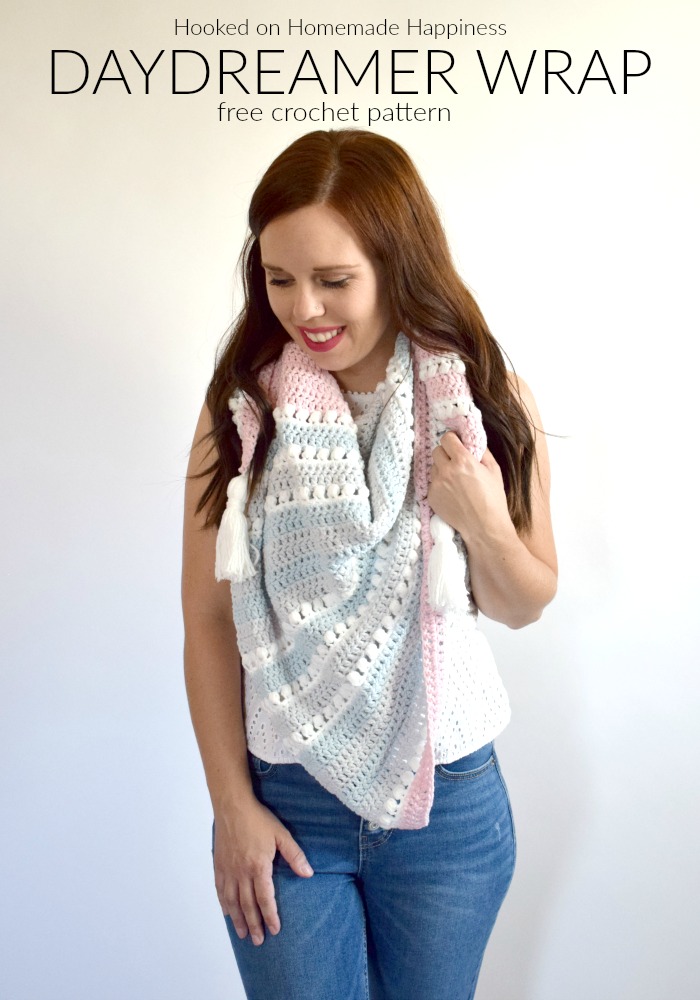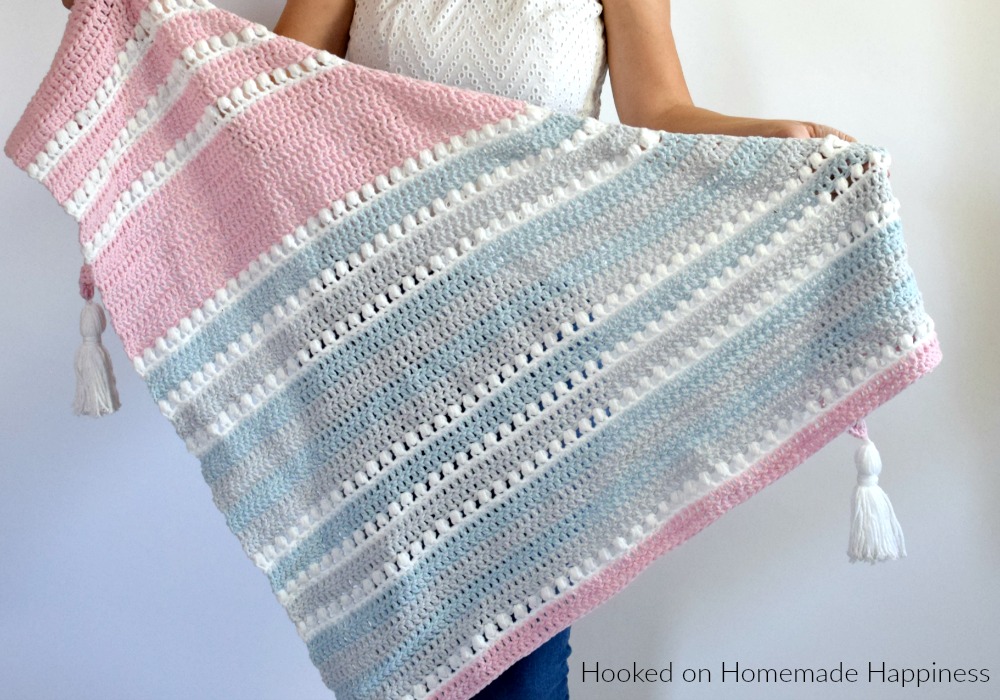 The yarn I used is Lion Brand Feels like Butta and it really is so soft. It's 100% polyester, but it has an almost chenille feel to it. I loved working with it. It created the most beautiful wrap! There are some wonderful colors to choose from. I chose soft, pastel colors for my wrap.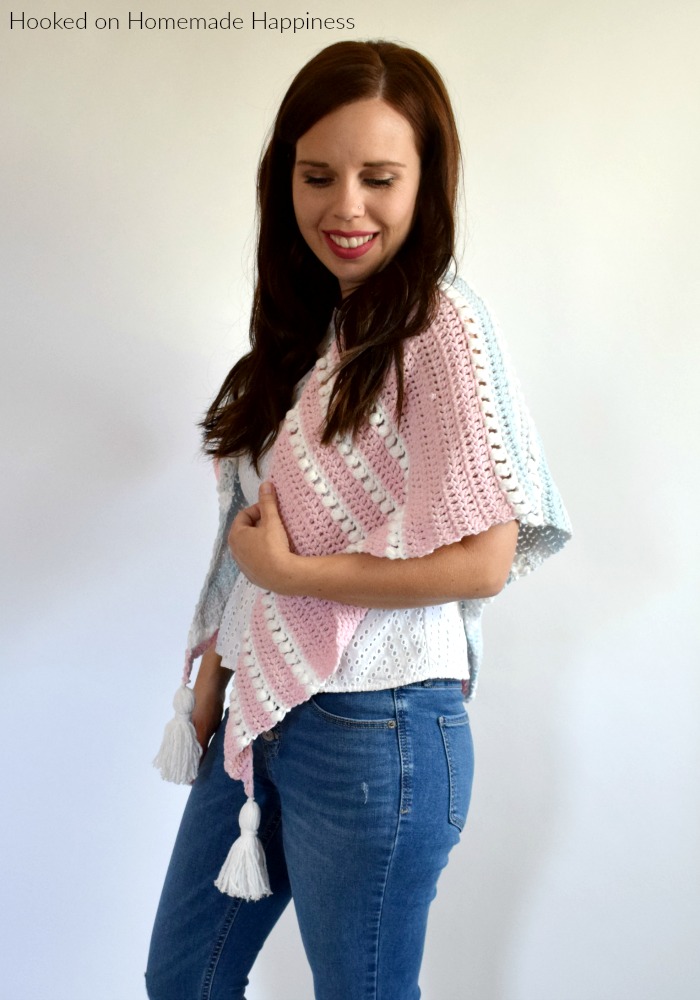 This is an asymmetrical wrap, Meaning you work from one corner to the other and each row gets gradually bigger. I think asymmetrical wraps are my favorite because 1) there is no starting ch (score!) and 2) it creates an interesting shape, rather than the typical triangle wrap.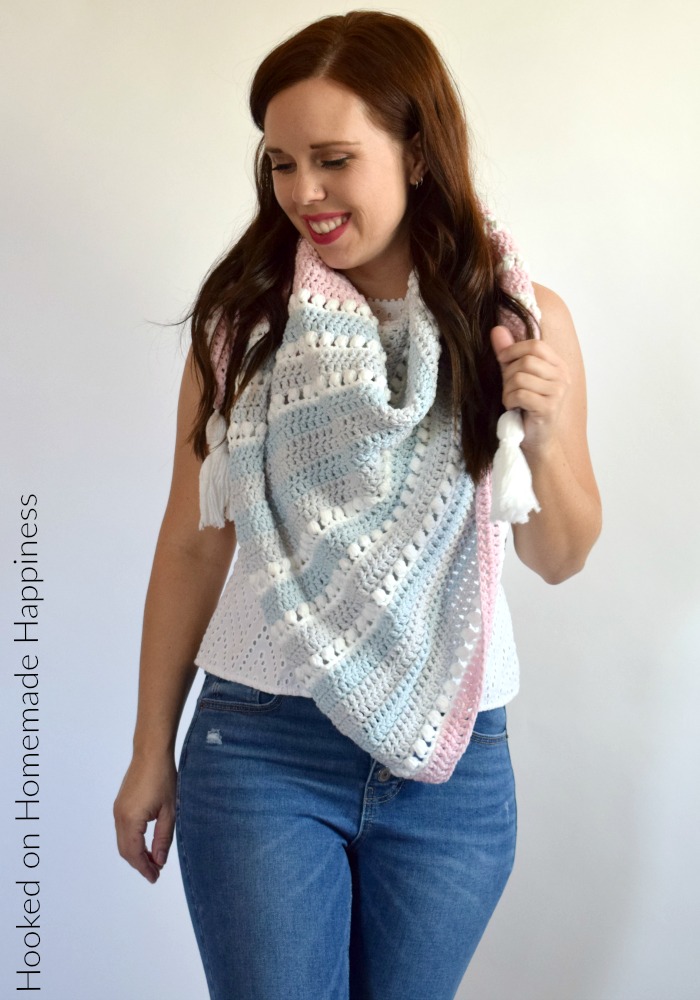 More Homemade Happiness: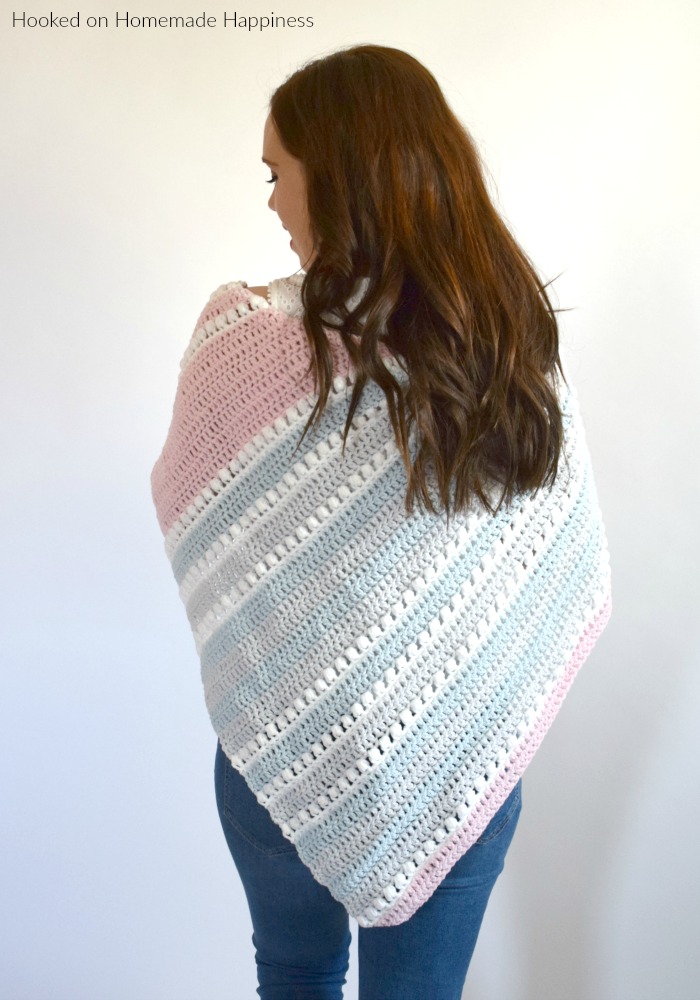 Daydreamer Crochet Wrap Pattern
– Get the free pattern below or purchase the ad-free, printable PDF in my Etsy Shop or Ravelry Shop
– PIN for later HERE
– Add to your Ravelry Queue HERE
Materials
Lion Brand Feels like Butta in White, Pale Gray, Pink, and Ice (1 skein each)
6.0 mm hook
Yarn needle
scissors
Click HERE to see some of my favorite tools!
Level
Easy+
Pattern notes & stitches to know
Ch – chain
Dc – double crochet
Sc – single crochet
Puff Stitch – *yarn over, insert hook into stitch, pull up a loop* repeat from * to * 3 more times, yarn over, pull through all loops on hook, ch 1 to close stitch
Ch 2 does not count as dc
Written in US terms
Approximate Finished Size:
Width across the top: 52"
Length down the center: 30"
DAYDREAMER WRAP
In Pink Ch 3
Row 1: 2 dc in 3rd ch from the hook (2 dc)
Row 2: ch 2, turn, 2 dc in each stitch (4 dc)
Row 3: ch 2, turn, dc in first 2 stitches, 2 dc in each of the last 2 stitches (6 dc)
Row 4: ch 2, turn, 2 dc in first 2 stitches, dc in remaining stitches (8 dc)
Row 5: ch 2, turn, dc in each stitch to the last 2, 2 dc in each of the last 2 stitches (10 dc)
Row 6: repeat row 4
Row 7: repeat row 5
Change to White
Row 8: ch 2, turn, dc in same stitch, *puff stitch in next, ch 1 (this is not the ch 1 to close the puff stitch, but an additional one), skip 1 stitch* repeat from * to * across (7 puff stitches)
Row 9: ch 1, turn, 1 sc in each puff stitch and ch 1 space across, dc in last stitch (14 sc)
Change to Pink
Row 10: repeat row 4
Row 11: repeat for 5
Repeat rows 8 – 11 to row 17 (a sc row)
Repeat row 4 & 5 to row 25
Repeat rows 8 – 25 for pattern to row 83
Color Pattern: On row 46 I changed from the pink to blue. I alternated blue and gray every 2 rows. Only on the solid dc rows. The Puff stitch and sc rows stayed white throughout. I changed back to pink for the last 2 solid dc rows.
Fasten off, weave in your ends.
(optional) Add tassels or fringe to each end..
And that's it! I hope you love this dreamy wrap!
Looking for more patterns? Follow me on Facebook, Instagram, and Pinterest! Please share a pic of your finished product with me. I'd love to see it!