The Lakeside Crochet Wrap Pattern is so easy! You only need to know 3 simple stitches to make this open, airy design: chain, single crochet, and treble crochet.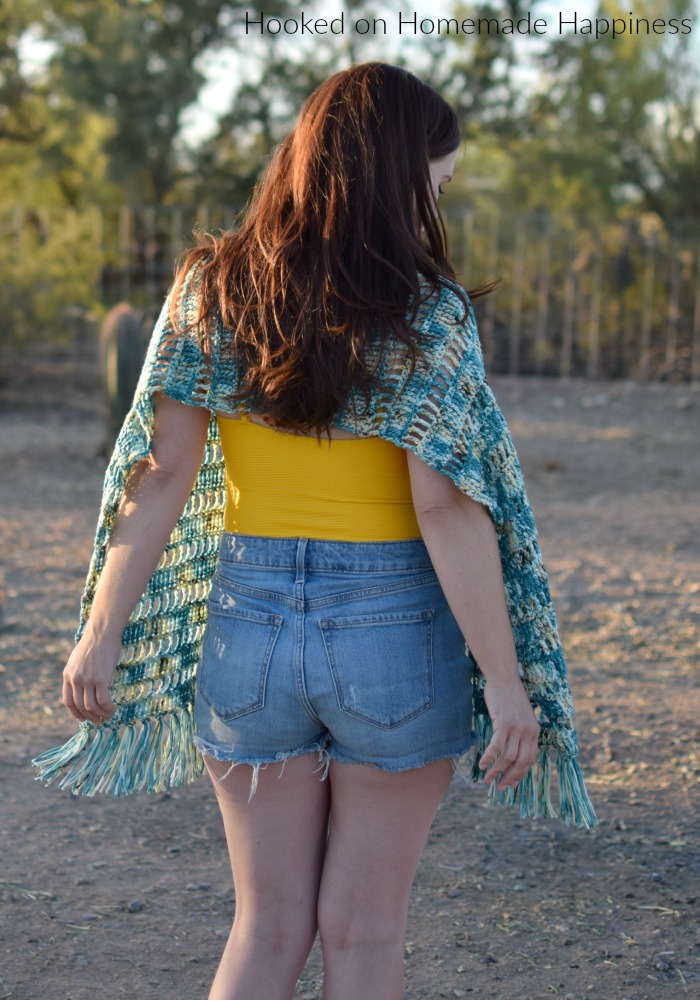 For this wrap I used DK weight yarn and an open stitch design so it's great for cool nights even in the warmer months. I used wool yarn that I dyed myself, but I think cotton DK yarn would be awesome for this wrap!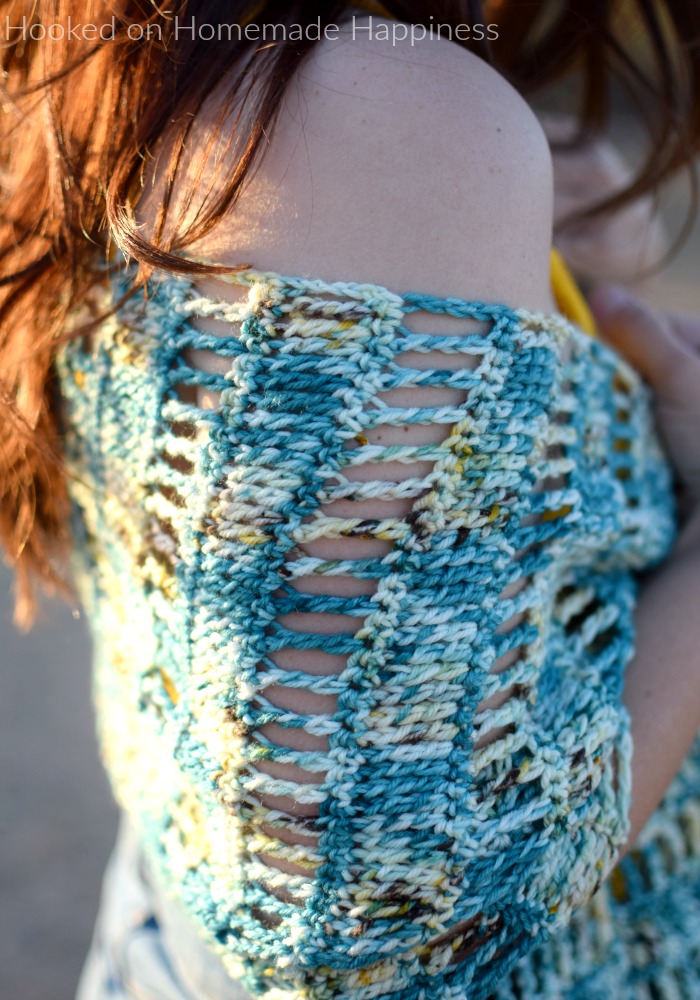 More Homemade Happiness: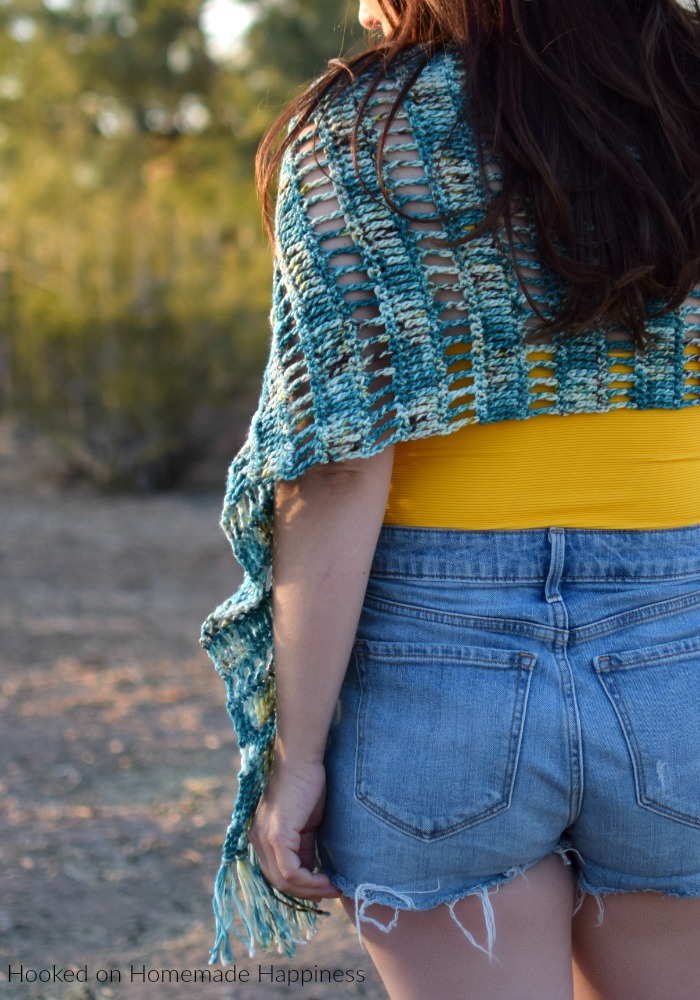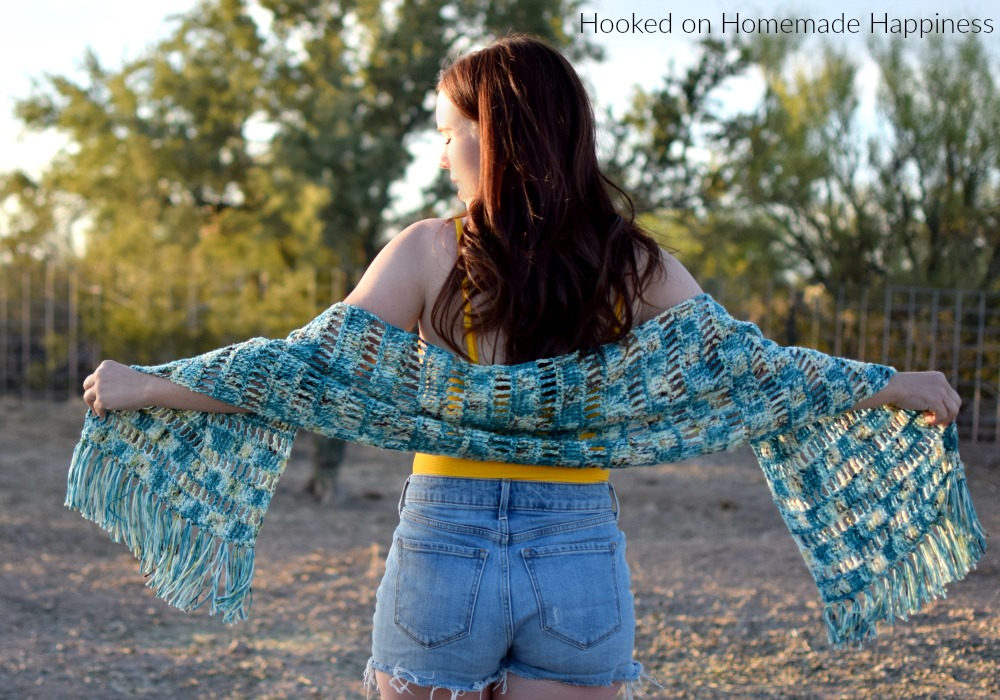 Lakeside Crochet Wrap Pattern
– Get the free pattern below or this pattern is also available as an inexpensive, clearly formatted, PDF instant download in my Etsy shop or Ravelry Shop!
– PIN for later HERE
– Add to your Ravelry Queue HERE
Materials
250g DK weight yarn
4.5 mm hook
yarn needle
scissors
Level
Easy -you must be very familiar with basic crochet stitches
Pattern notes & stitches to know
ch – chain
sc – single crochet
tr – treble crochet
Approx Finished size (blocked, without fringe): 13.5" x 54"
– written in US terms
– ch 1 does not count as sc
– ch 4 counts as tr
– ch 5 counts as tr + ch 1
LAKESIDE CROCHET WRAP PATTERN
Ch 52
Row 1: sc in 2nd ch from the hook and across (51 sc)
Row 2: ch 4, turn, tr in next stitch and in each stitch across (51 tr)
Row 3: ch 1, turn, sc in each stitch across (51 sc)
Row 4: ch 5, turn, skip 1 stitch, tr in next, *ch 1, skip 1 stitch, tr in next* repeat from * to * across (26 tr)
Row 5: ch 1, turn, sc in each stitch and ch space across (51 sc)
Repeat rows 2 – 5 to Row 99 ending with a row 3 repeat (51 sc)
Fasten off. Weave in the ends.
Optional: Add fringe to each end. I added ten, 10" pieces to every 3rd stitch on each end
And you're done with this wrap!
Looking for more patterns? Follow me on Facebook, Instagram, and Pinterest! Please share a pic of your finished product with me. I'd love to see it!