I am obsessed with Scarfie yarn! The ombre effect is spot on and I'm especially loving these neutrals! It's the perfect yarn for the Desert Landscape Wrap Crochet Pattern.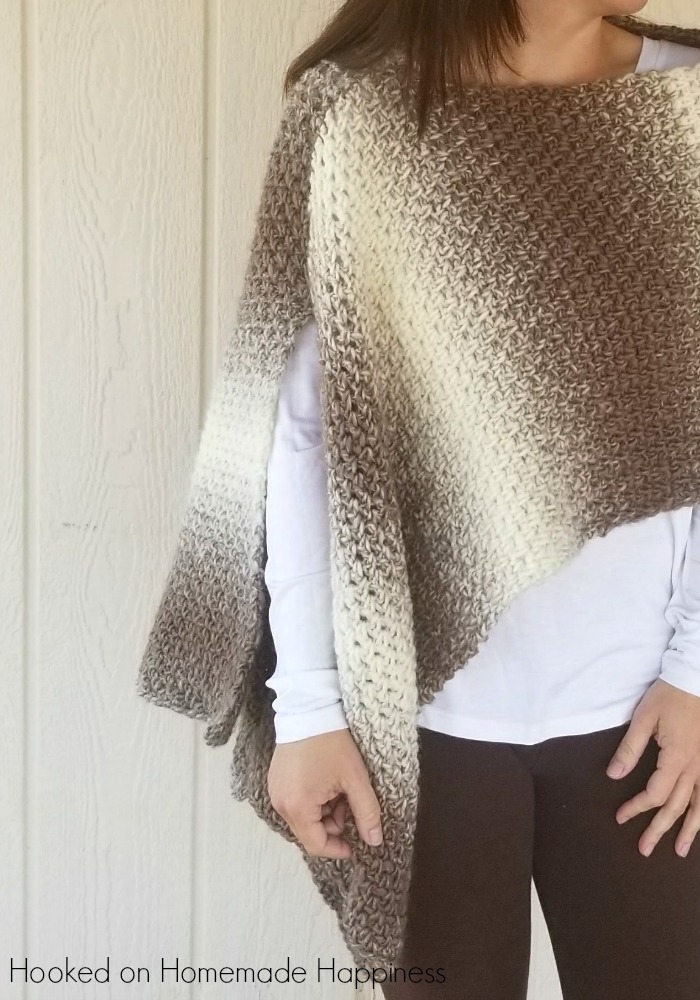 I'm pretty sure Scarfie and the Moss stitch were MADE FOR EACH OTHER. This combo gives me all the heart eyes.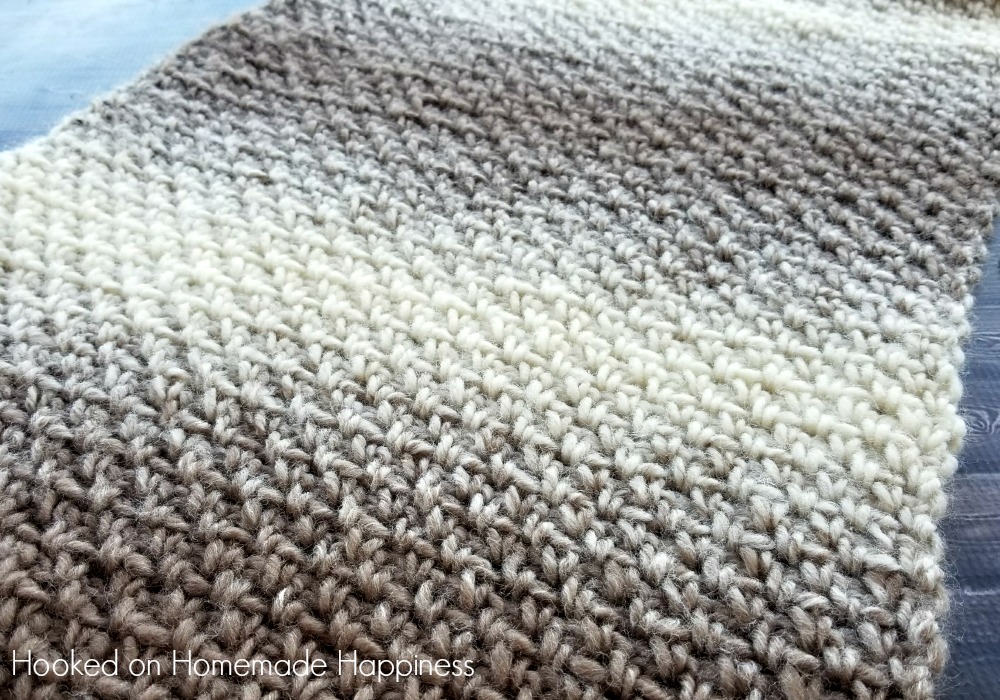 This wrap is one big rectangle, folded in half, and then sewn a little bit across the shoulder. I love the beautiful drape of this wrap! It's a great accessory for just a little warmth. This wrap is written in 2 sizes, S/M and L/XL. But it can easily be adjusted for a different size. Pictured is the S/M and I'm 5'0″ for reference.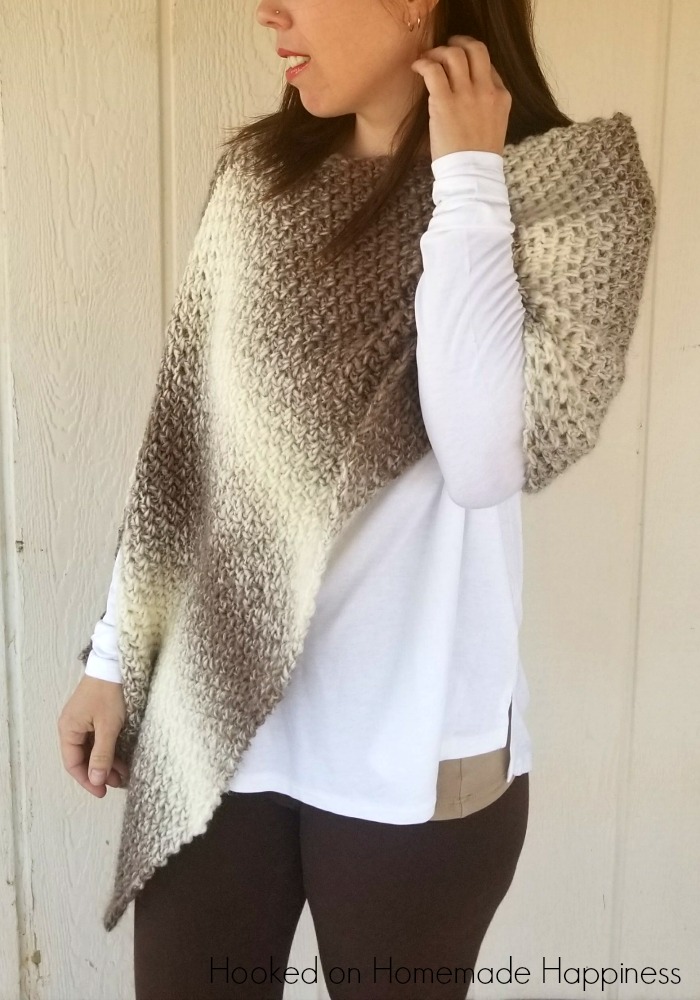 This pattern is available as an inexpensive, clearly formatted, PDF instant download in my Etsy Shop or Ravelry Shop!
PATTERN
Materials
Lion Brand Scarfie in Cream/Taupe (2 skeins for S/M, 3 skeins for L/XL)
L/8.0 mm hook
Yarn needle
Scissors
Level
easy
Pattern Notes & Stitches to Know
ch – chain
sc – single crochet
Finished Size:
S/M
Width: 15″
Length: 70″
L/XL
Width: 19:
Length: 74″
Gauge:
10 rows = 4″
7 sc, ch 1 = 4″
DESERT LANDSCAPE WRAP
Ch 46 (60) – or any even number
Row 1: sc in 2nd ch from the hook and across (45 sc, (59 sc))
Row 2: ch 2, (counts as sc + 1 ch), turn, skip one stitch, sc in next, *ch 1, skip one stitch, sc in next* repeat from * to * across (23 sc, (30 sc))
Row 3: ch 2 (counts as sc + ch 1), turn, sc in ch 1 space, *ch 1, skip one stitch, sc in ch 1 space* repeat from * to * across, sc in ch 2 turning ch (23 sc, (30 sc))
Repeat row 3 to row 179 (189) – or until desired length
Fasten off, weave in ends
Fold the rectangle in half.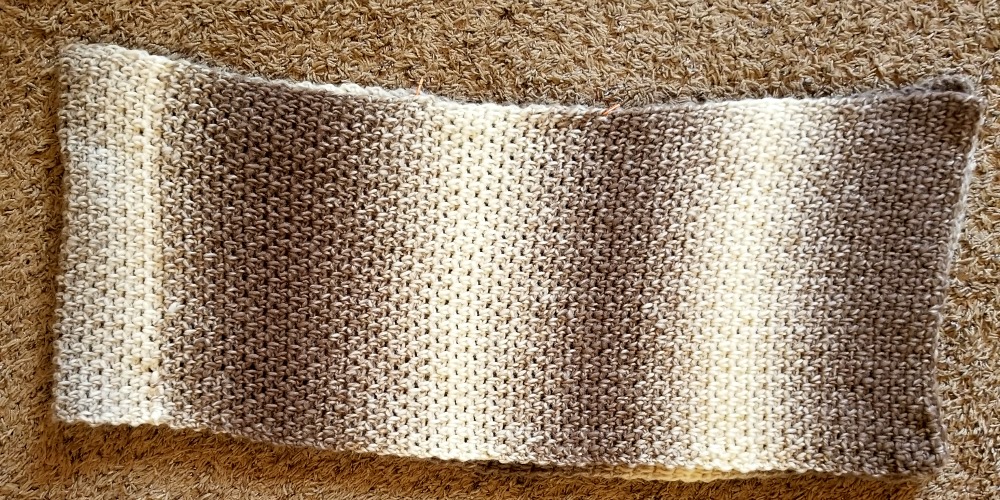 Mark 12 inches from the fold with a stitch marker. (this can be any size—to measure the neck size, I wrapped the wrap around myself and used a stitch marker to mark where I wanted the collar to be)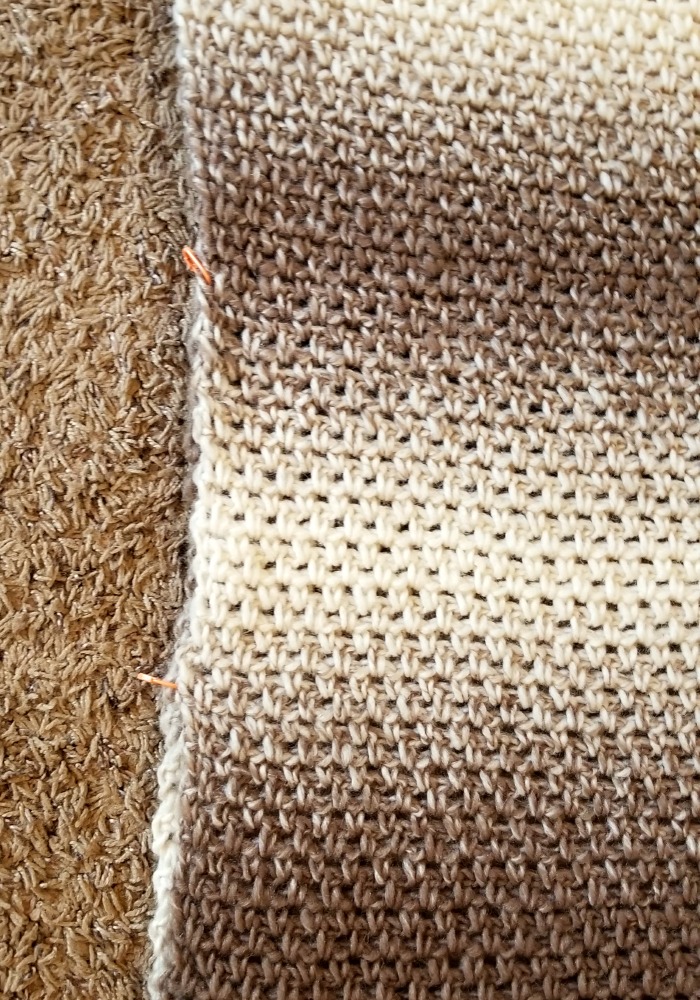 Sew about an 8 inch seam 12 inches from the fold. Fasten off, weave in the ends.

Looking for more patterns? Follow me on Facebook, Instagram, and Pinterest! Please share a pic of your finished product with me. I'd love to see it!

NEVER MISS A PATTERN!
Sign up for my newsletter and receive a FREE ebook with 3 of my favorite patterns PLUS patterns straight to your inbox. You'll also get a heads up about upcoming giveaways, events, and crochet alongs.