Hi there! Thank you for your interest in joining my Stitch Sampler Scrapghan Crochet Along 2021!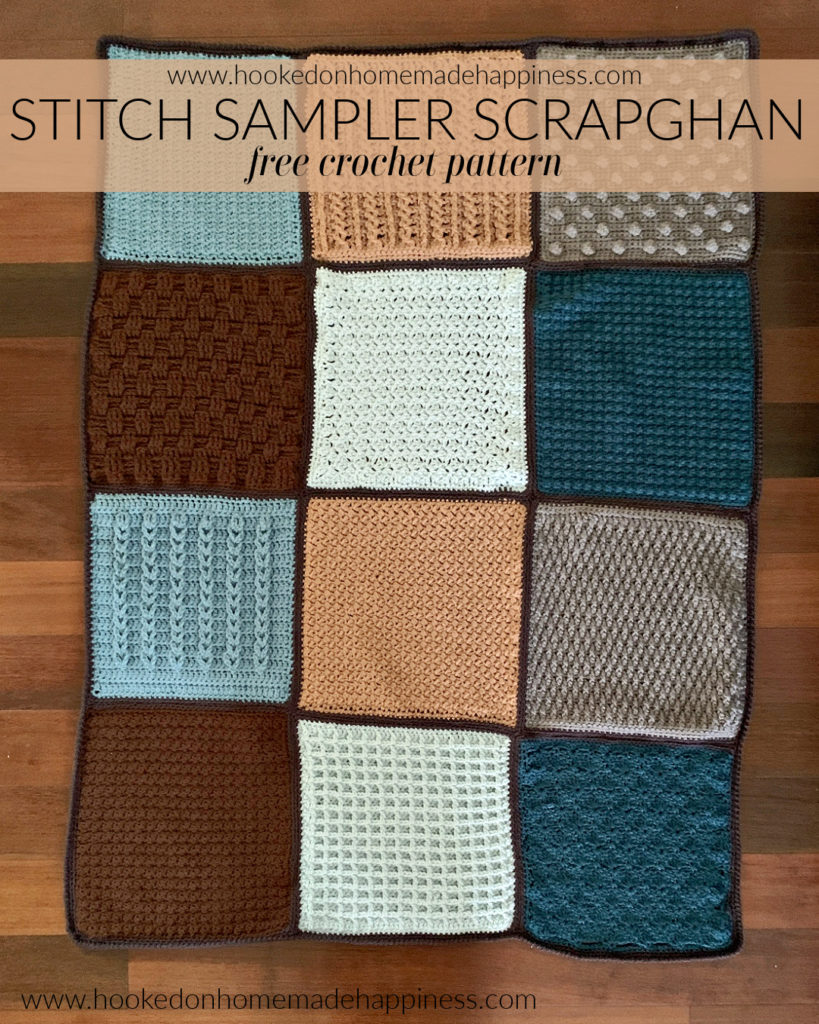 What is a crochet along (CAL)?
A crochet along is when a pattern is broken up into parts and a group works on each section at the same time. It's fun because you can share your progress with each other and ask questions!
I like to do things pretty casual for a crochet along. There is no "signing up" to join, you simply follow along with the pattern as the different sections get posted! The best way to stay updated on release dates and things is to join my FACEBOOK GROUP and/or SIGN UP FOR MY NEWSLETTER.
Here are the details–
– We will start on Friday, January 8th.
– The CAL will last 14 weeks and will end on Friday, April 8th. Each part will release on Fridays at 6 AM PST
– Each week a new square pattern will be posted. There are 12 squares total and each square is a different stitch. The last 2 weeks are for sewing the squares and the border.
– Each week there will be a brand new post on my blog with that weeks' square. There will be a PDF available to download on my blog each week for the duration of the CAL. After it's over, the free PDF's will be taken down and moved to my shops. So even if you get behind, make sure to get the printable every week! 😊
– The stitches are mostly beginner and intermediate level. There will be photo tutorials and/or video tutorials for many of the stitches.
– Materials: approx 1300g (total) worsted weight yarn & H/5.0 mm hook
– Approx finished size (lapghan): 50″ x 37″
– I used an H/5.0mm hook for the entire blanket. Some of the stitches are tighter or looser than others and you can change your hook size to account for this. I will add this information to the 'Pattern Notes' section for the weeks you might want to adjust your hook size. When adjusting a square for size keep in mind that it's easier to fix a square that's a little too small than one that's too big.
– Each square requires approx 85 – 130g of yarn, depending on the stitch. I made each square a solid color. But you don't need that much of each color. Many of the stitches would look really nice in stripes, so smaller amounts of yarn would be perfect.
– Each square is approx 12.5″ after steam blocking. I steam blocked all of my squares before sewing. They were all approximately the same size, but blocking helped even them out. I found the biggest of my squares, then steam blocked the rest to match that largest size so they were all the same before sewing.
– You're squares don't necessarily have to be the same size as mine. But they all do have to match. For example, if you're first square turns out to be 13″, that's ok. Just make sure the rest of your squares are about that size.
– It's the perfect project for scrap yarn, but you don't have to use scrap yarn (I didn't 😉 ). I used Hobby Lobby I Love This Yarn in 7 colors (1 skein of each color). 6 colors for the squares and one for joining and the border.
– There will be a new post for each week, but I will also link each week at the bottom of this post. You can save this post on Pinterest or Ravelry!
– PIN this post for later HERE
– Add to your Ravelry Queue HERE
Be sure to join my Facebook group HERE for the lastest details, to ask questions, share your work, and talk with fellow crocheters!
Part 13 (4/2/21) – Sewing
Part 14 (4/7/21) – Border