Hi friends! I'm excited to start this year's Crochet Along for a Cause! Last year was such a success and so much fun. Last year we made over 9,000 hats for donation! The Crochet Along for a Cause starts on Friday, June 19, 2020 and will last all summer long. Thank you so much for your interest in joining this year, I can't wait to get started. Make sure to tag #CALforacause on Instagram!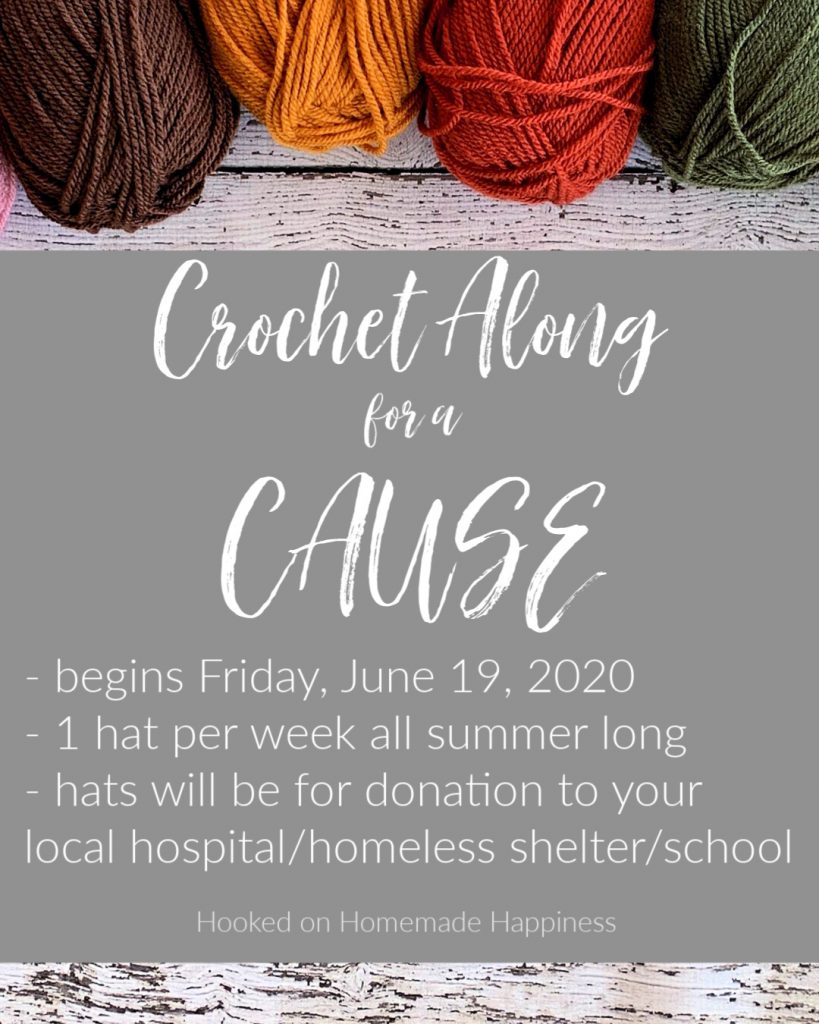 PIN for later HERE!
What is a Crochet Along?
A crochet along is when we work on a project all together at the same time. It's a great way to have fun with fellow crocheters all over the world!
There will be 1 new hat pattern every Friday for 14 weeks until Friday, September 18, 2020. Each hat pattern will be made for donation to your local cancer center/organization, homeless shelter, or school. (I will not be collecting hats. You can distribute them to a hospital/school/shelter near you.)
You can make as many or as little hats as you'd like. Last year, some made 5 hats and some made 100. It's all up to you. There are no requirements to take part in this event! And if there's a pattern you don't particularly like… skip it! Make a second of one you like better, or a completely different hat!
If you're a beginner crocheter, or are new to making hats, check out my video tutorial below: How to Crochet a Basic Beanie for Beginners (get the written pattern HERE)
Be sure to join my Facebook group HERE for the lastest details, to ask questions, share your work, and talk with fellow crocheters!
Materials
The patterns will use worsted weight yarn with hook sizes 4.5 – 6.0. If you are donating to a hospital, the yarn does need to be a soft cotton or acrylic. Please don't use wool because it can irritate the scalp. Some good choices are Caron Simply Soft, I Love this Yarn, Red Heart Soft, but any soft acrylic or cotton should work.
Level
The patterns will all be beginner friendly, maybe a couple of easier intermediate. You will need to be familiar with basic crochet stitches and techniques.
Hat Sizes
The hats will range from children's sizes to adult. There will be patterns geared towards women and some geared towards men. For some of the patterns I will have different sizes available so you can choose what size you want to make.
HERE is the list of patterns from CAL for a Cause 2019!
HERE is the list of patterns from CAL for a Cause 2018!
The best way to stay up to date with the Crochet Along for a Cause is by joining my Facebook group HERE or by joining my email list in the box below!