So bright and beautiful! You can't go wrong no matter what colors your choose for this Color Kaleidoscope Crochet Blanket Pattern! I'm so excited to share this pattern with you that I'm adding in a freebie… you can get the free pattern here OR you can grab the free printable PDF!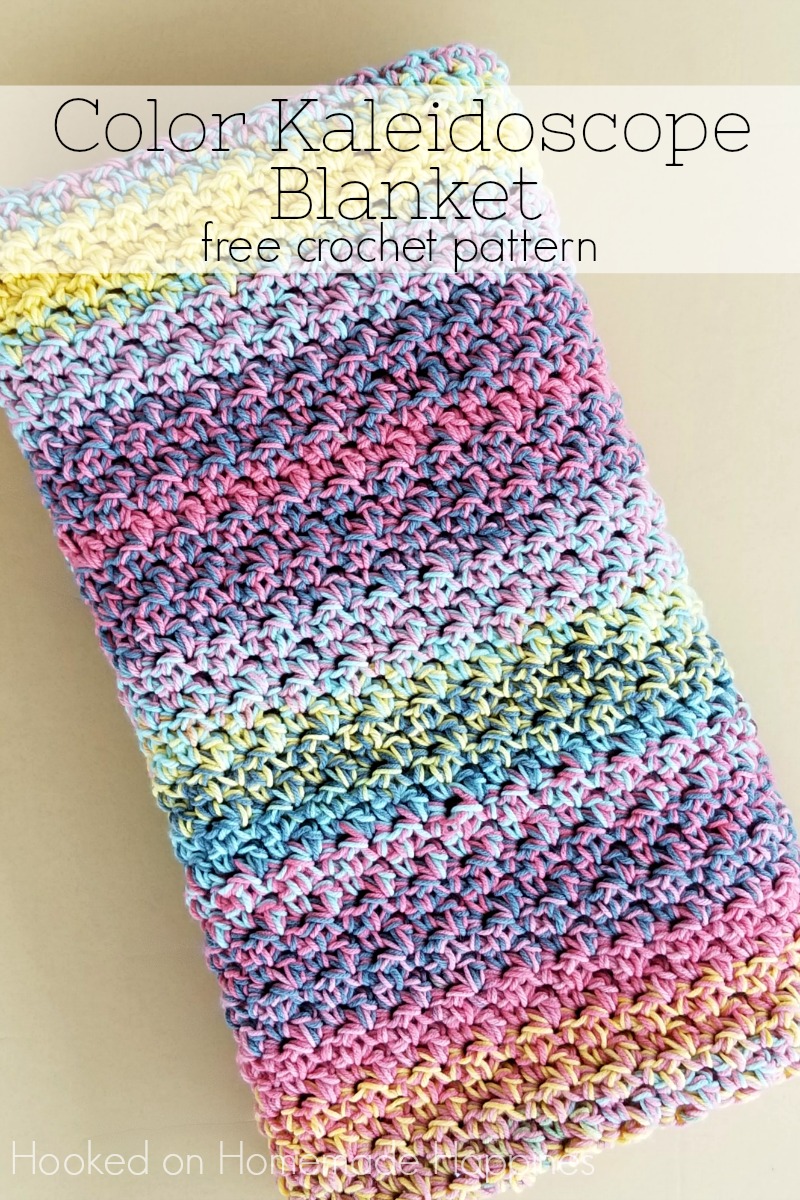 I made this blanket using two strands at the same time of Caron Big Cakes in Summer Berry Tart. I love the variegated look it creates PLUS the self striping. It really creates something magical!
I especially love the randomness of the finished blanket. Some stripes are a solid color, some appear more often than others, and different combinations create different colors. I tried not to be concerned with how the colors were matching up. I just grabbed 2 skeins, pulled from the center and started crocheting. I'm so glad I did it that way! Trust me, it was hard not to cut some colors out to get to where I wanted… but I let the yarn do the talking here 😉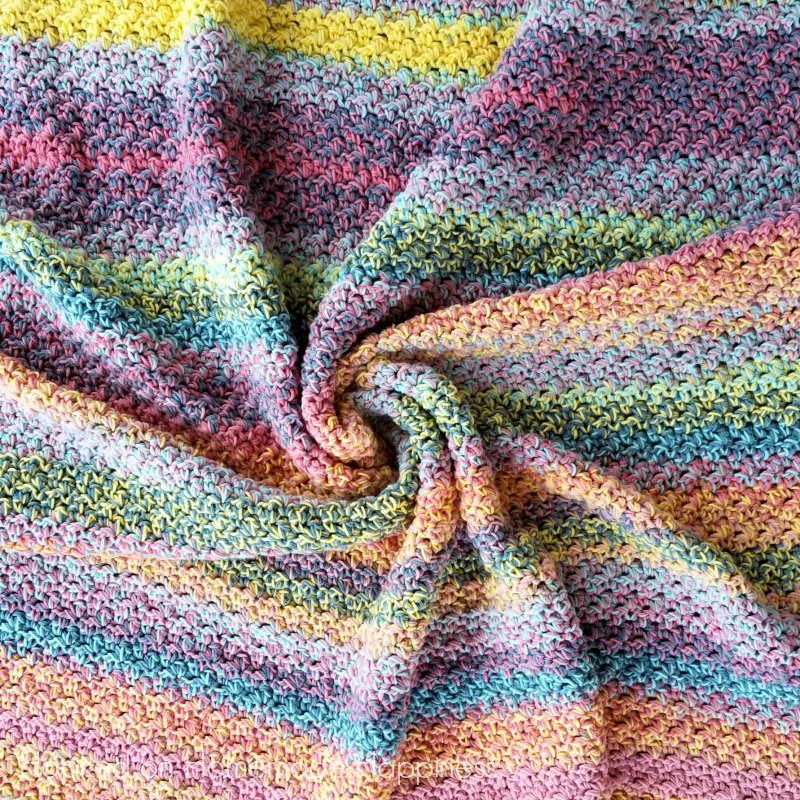 For the stitch I used the Lemon Peel Stitch. It's a combination of sc and dc, working the dc stitches into the sc's and the sc stitches into the dc's. It creates this uneven, pretty texture that worked up perfectly with this yarn.
COLOR KALEIDOSCOPE CROCHET BLANKET PATTERN
-Get the complete pattern below or download the FREE printable PDF pattern >>>HERE<<<
-PIN for later HERE
-Add to your Ravelry Queue HERE
Materials
4 skeins Caron Big Cakes in Summer Berry Tart (you will use 2 skeins at a time)
N/P 10.0 mm hook
Yarn needle
Scissors
Level
Easy -you must be very familiar with basic crochet stitches
Pattern notes & stitches to know
Ch – chain
Dc – double crochet
Sc – single crochet
Approximate Finished Size
48" x 45"
PATTERN
Starting with 2 strands at the same time, Ch 86
Row 1: sc in 2nd ch from the hook, *dc in next, sc in next* repeat from * to * across (43 sc, 42 dc)
Row 2: ch 2, turn, dc in first sc, sc in dc, *dc in next, sc in next* repeat from * to * across, dc in last sc (43 dc, 42 sc)
Row 3: ch 1, turn, sc in first dc, dc in sc, *sc in next, dc in next* repeat from * to * across, sc in last dc (43 sc, 42 dc)
Repeat rows 2 and 3 to row 76 (or until you run out of yarn 🙂 )
Fasten off, weave in the ends.
Looking for more patterns? Follow me on Facebook, Instagram, and Pinterest! Please share a pic of your finished product with me. I'd love to see it!
MORE HOMEMADE HAPPINESS:


NEVER MISS A PATTERN!
Sign up for my newsletter and receive a FREE ebook with 3 of my favorite patterns PLUS patterns straight to your inbox. You'll also get a heads up about upcoming giveaways, events, and crochet alongs.