For this pattern I used Yarn Bee Whimsy Yarn in Westbrooke. Unfortunately, it's been discontinued since I purchased it 🙁 But I wanted to share this pattern anyway because I love the shape and fit of this cardigan.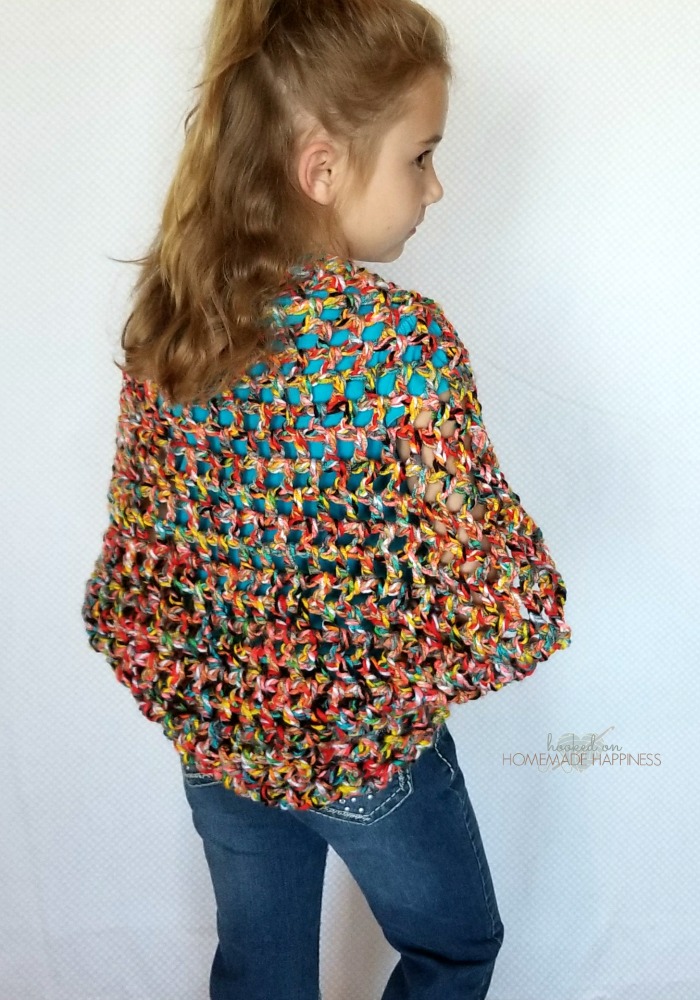 Any bulky (5) weight yarn would work great for this pattern. Actually, any weight yarn would work with some adjustments to the starting chain. All you need is a starting chain of an odd number. So easy!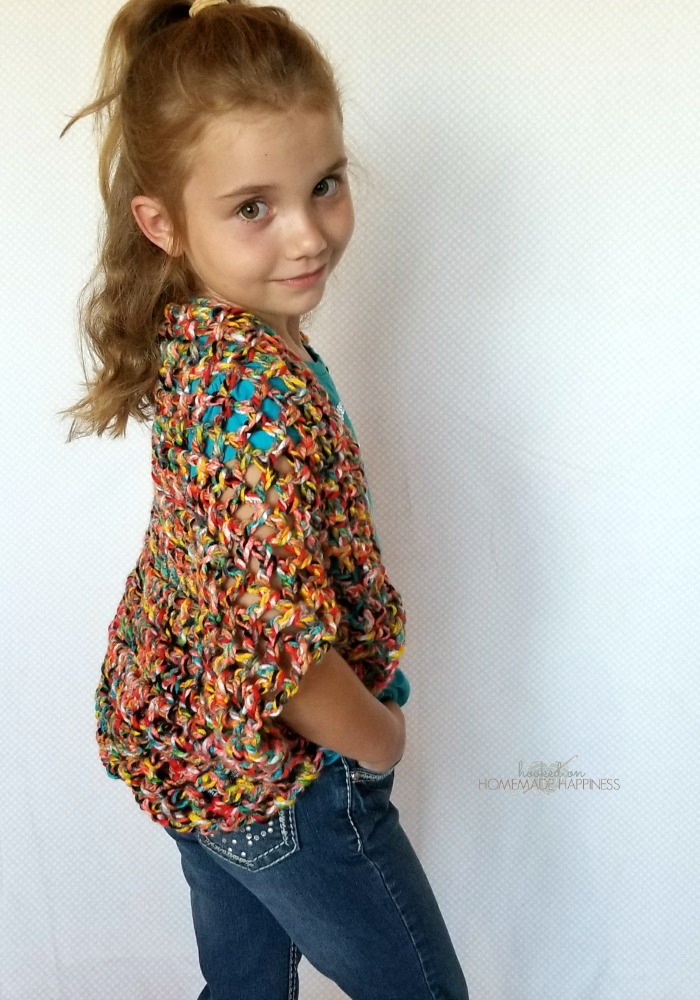 As you can tell, my little model doesn't mind being in front of the camera! 😀
PATTERN
Materials
186 (for S/M) – 279 (for L/XL) yards bulky weight yarn
6.5 mm hook
yarn needle
scissors
Level
easy
Pattern Notes & Stitches to Know
sl st – slip stitch
ch – chain
dc – double crochet
Finished Size
Pattern is written for S/M, changes for X/XL are written in [ ]
Kid's S/M (pictured with 7 year old)
Width: 24 inches
Length: 24 inches
Kid's L/XL
Width: 29 inches
Length: 29 inches
SQUARE
Ch 55 [65] (any odd number will work)
Row 1: dc in 5th ch from the hook (counts as dc + ch 1), *ch 1, skip one stitch, dc in next* repeat from * to * across (27 dc, 26 ch 1 spaces) [32 dc, 31 ch 1 spaces]
Row 2: ch 4 (counts as dc + ch 1), turn, *ch 1, dc in next ch 1 space* repeat from * to * across, dc in ch 4 from previous round
For S/M – Repeat row 2 until row 27 or until it reaches 24 inches
For L/XL – Repeat row 2 until row 33 or until it reaches 29 inches
CONSTRUCTION
Fold the rectangle in half (bringing the top down so the rows are horizontal). Starting about halfway down from the fold, whipstitch down both sides, making sure to line up the rows evenly. The unsewn spaces at the top are the armholes. Fasten off, weave in the ends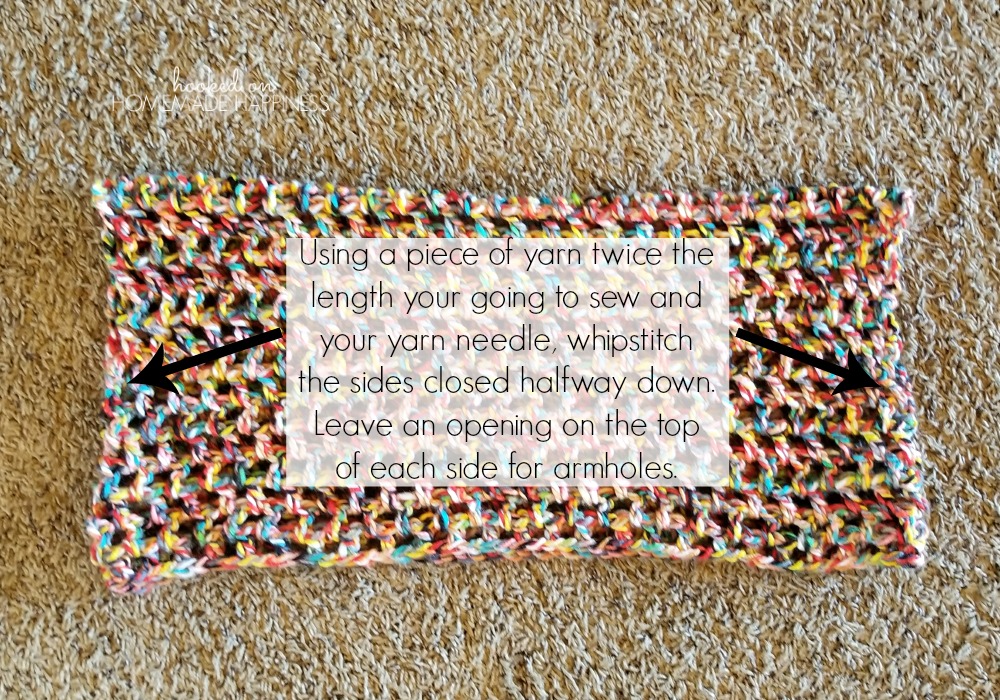 After it's sewn, pull the top and bottom so the arm seams are running horizontal through the middle. This is how you wear the piece, you can see that it looks like a cardigan now!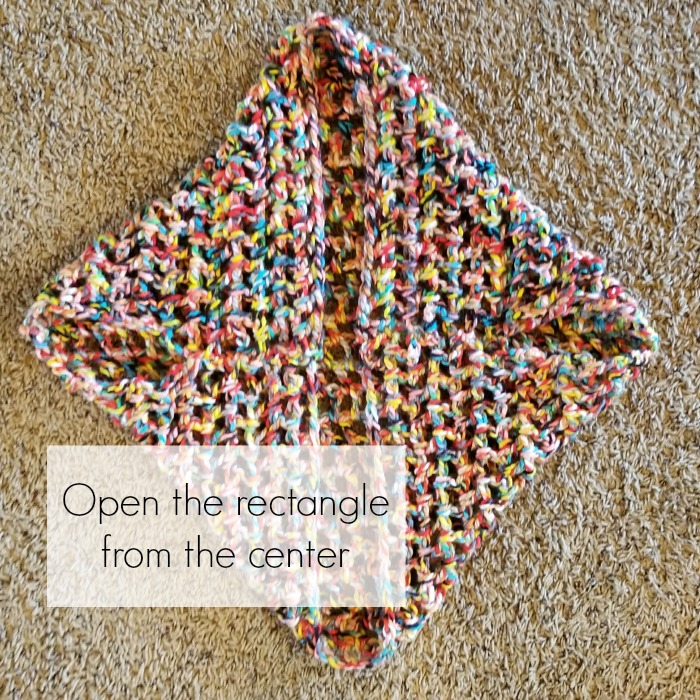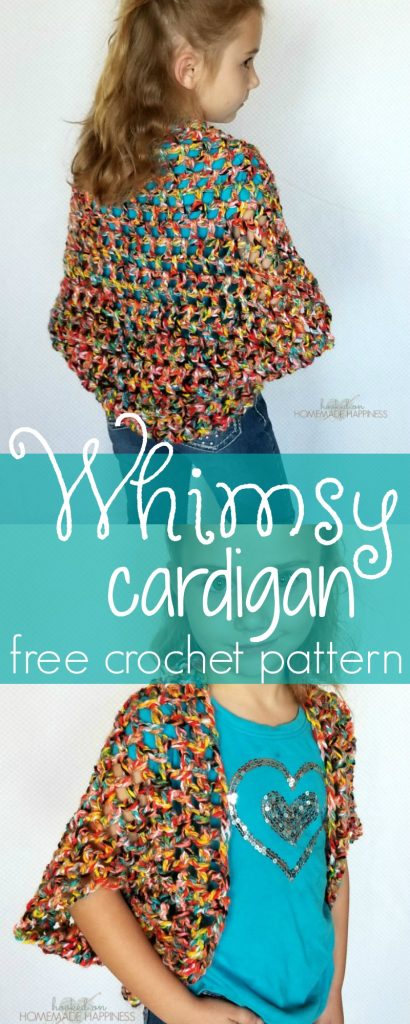 Looking for more patterns? Follow me on Facebook, Instagram, and Pinterest! Please share a pic of your finished product with me. I'd love to see it!

NEVER MISS A PATTERN!
Sign up for my newsletter and receive a FREE ebook with 3 of my favorite patterns PLUS patterns straight to your inbox. You'll also get a heads up about upcoming giveaways, events, and crochet alongs.