Hi! Thank you so much for your interest in joining the Country Christmas Tree Skirt Crochet Along! The Country Christmas Tree Skirt Crochet Pattern is a beautifully textured tree skirt that will be treasured for years to come.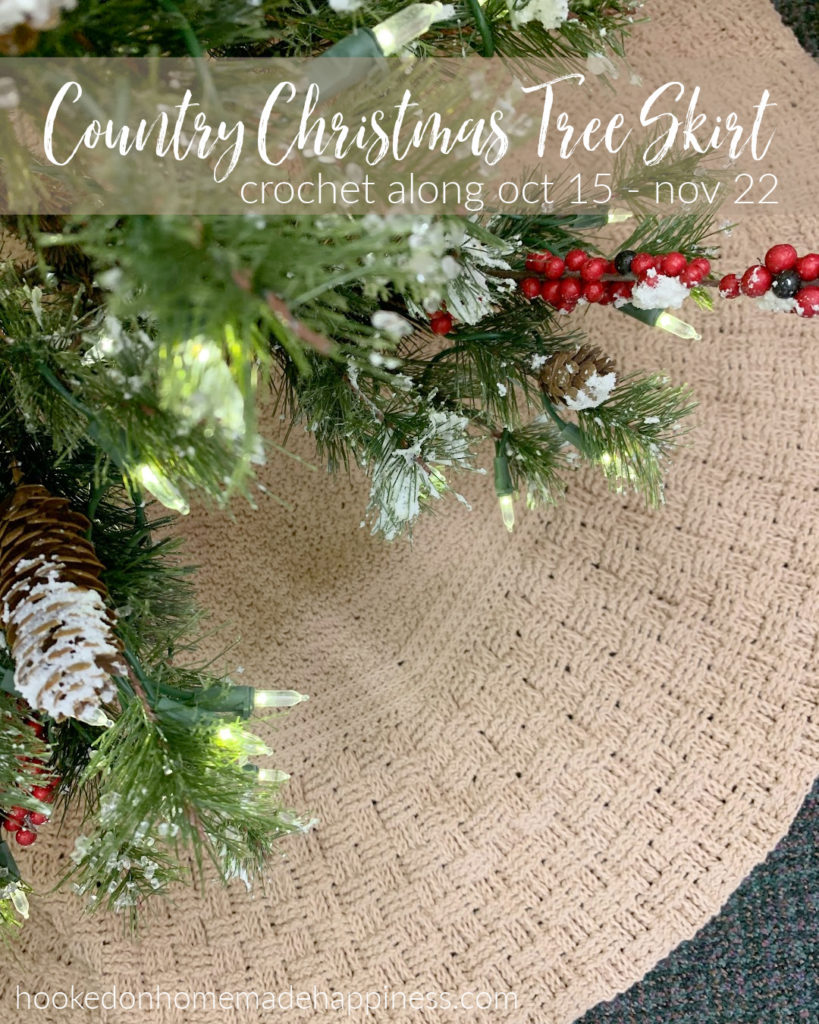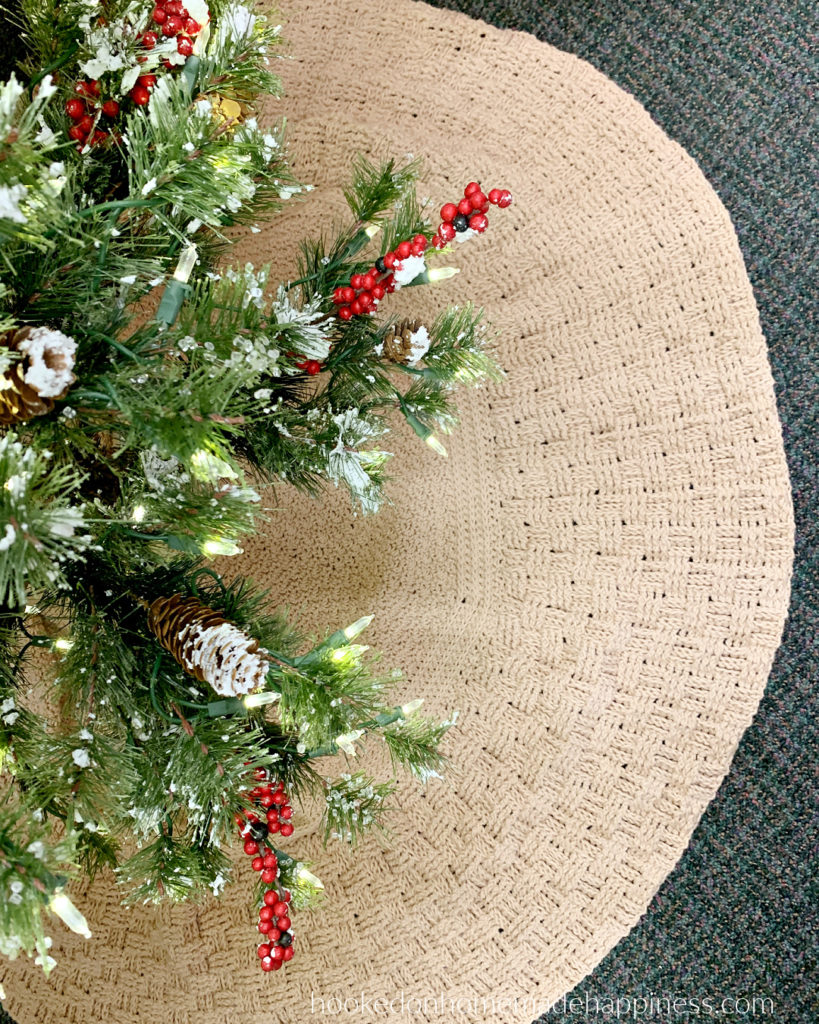 What is a Crochet Along?
A crochet along is when we work on a project all together at the same time. It's a great way to have fun with fellow crocheters all over the world!
Be sure to join my Facebook group HERE for the lastest details, to ask questions, share your work, and talk with fellow crocheters!
We will work on the Country Christmas Tree Skirt over the course of 6 weeks. There are 2 main sections to this tree skirt and each will take about 3 weeks.
Each week a new part of the pattern will be posted. It will be posted on Friday's at 6 AM PST until Nov 2, then I will be posting at 6 AM MST for the remaining weeks (we don't change our clocks in AZ 🙂 ). I'll have a that week's part of the pattern available for FREE on my blog, OR you will be able to purchase the full PDF in my shops (if you would rather have the pattern as one full document).
Purchase the ad-free, printable PDF in my Etsy Shop or Ravelry Shop
Add to your Ravelry Queue HERE
Find each part of the free pattern here:
Part 1
Part 2
Below I've listed the materials & pattern notes so you can be ready to go on October 15th!
Materials
15 skeins WeCrochet Dishie in Linen (2850 yds of any worsted weight (4) cotton or acrylic would work)
I/5.5 mm hook
yarn needle
scissors
seven 1″ – 1.5″ buttons
Level
intermediate
Pattern Notes & Stitches to Know
ch – chain
sl st – slip stitch
sc – single crochet
fsc – foundation single crochet VIDEO: https://www.youtube.com/watch?v=Z2PsECMK58M&t=3s
dc – double crochet
hdc – half double crochet
3rd loop of hdc – PHOTO TUTORIAL: https://www.hookedonhomemadehappiness.com/crochet-3rd-loop-hdc/
fpdc – front post double crochet
bpdc – back post double crochet
· written in US terms
· This tree skirt is made from the center out in turned rows. The rows increase to make the circular shape. The first section uses the lemon peel stitch and the outer section is the basket weave stitch.
· The basketweave (outer) section works up tighter than the lemon peel (inner) section. This will lead to some bunching in the inner section, but (for me) it lays nicely over the tree stand. To help lessen the amount of bunching a larger hook for the outer section can be used.
· The buttons are optional. If no buttons are desired, simply skip making the button holes. It's indicated in the pattern when to do this.
Approx finished size:
Outer diameter: 49″
Inner diameter: 6.5″
Get your yarn ready & we'll get started on October 15th!
If you have any questions please feel free to post them here, email me at hookedonhomemadehappiness@gmail.com, or post them in our Facebook group!
To get the most up to date info you can join our Facebook group HERE and/or join my email list HERE