The Cactus Beanie Crochet Pattern starts as a simple, ribbed beanie. This beanie is made from a rectangle and sewn into a hat shape. Then all the fun details are added!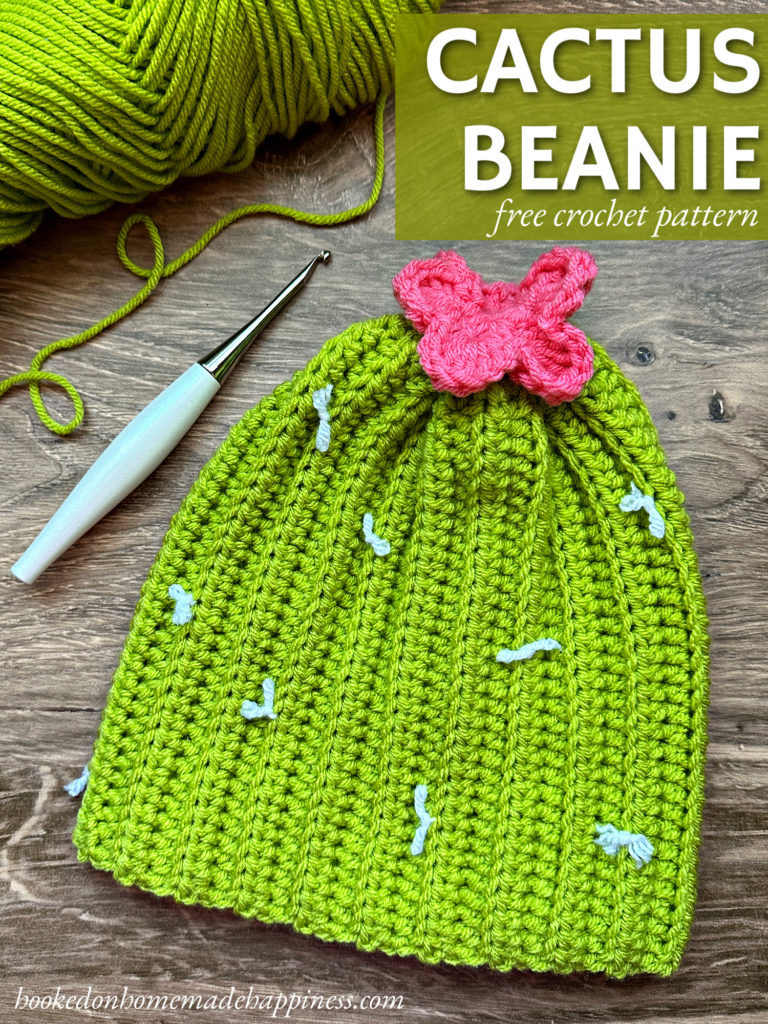 This hat is the 5th pattern in the Crochet Along for a Cause. We are making 1 hat per week to donate to a cancer center, school, or homeless shelter for 12 weeks. There's always time to join! You can find all the details and hat patterns HERE.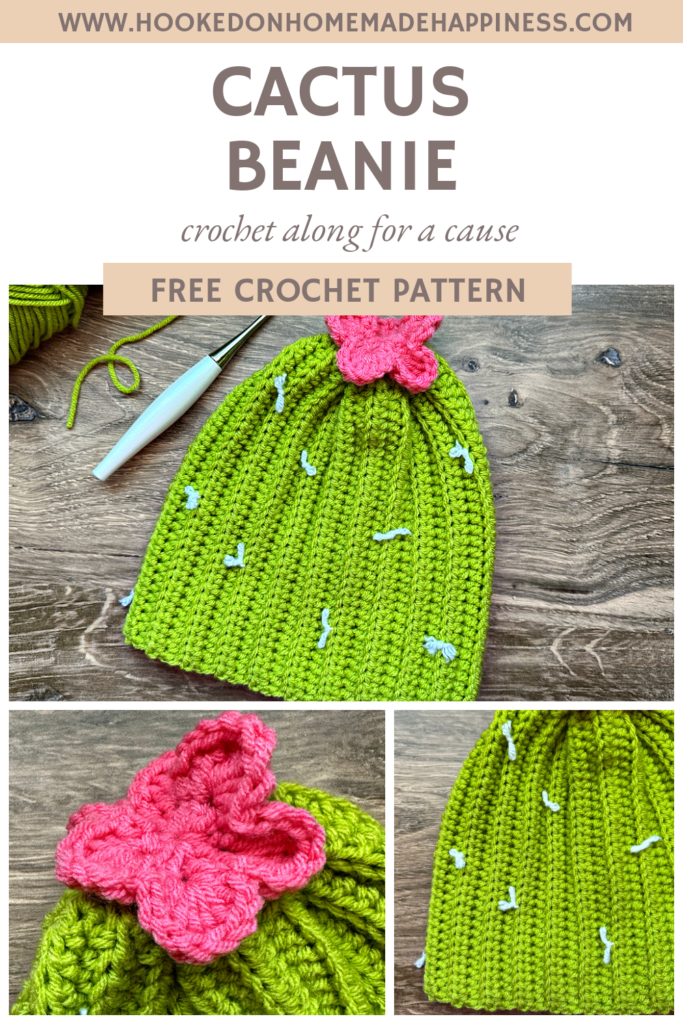 Cactus Beanie Crochet Pattern
Get the full pattern below or download the ad-free, printable PDF for free HERE
PIN for later HERE
Add to your Ravelry Queue HERE
Materials
100g worsted weight yarn (I used I Love this Yarn in Key Lime)
Small amount of pink and white yarn
H/5.0 mm hook
yarn needle
scissors
Level
intermediate
Pattern notes & Stitches to Know
ch – chain
sl st – slip stitch
hdc – half double crochet
fhdc – foundation half double crochet (VIDEO TUTORIAL)
blo – back loop only
sc – single crochet
sc2tog – single crochet 2 together
dc – double crochet
tr – treble crochet
· Written in US terms
· ch 2 does not count as hdc
· ch 1 does not count as sc
Approx Finished size
Length: Child (8") Teen/Small Adult (9") Large Adult (10")
Circumference: Child (17.5") Teen/Small Adult (19") Large Adult (22.5")
CACTUS BEANIE CROCHET PATTERN
Pattern is written in sizes Child, Teen/Small Adult noted in ( ), Large Adult noted in [ ]
Ch 3
Row 1: starting in 3rd ch from the hook, fhdc 27, (32), [37]
(27, (32), [37]hdc)
Alternative to fhdc: ch 29, (34), [39]and hdc in 3rd ch from hook and across
Row 2: ch 2, turn, hdc in first stitch, hdc blo in each stitch across to the last, hdc in last (27, (32), [37]hdc)
Row 3 – 39, (42), [49]: repeat row 2
Do not fasten off.
SEWING
Bring the bottom of the first row together with the last row. Sew both sides together with a sl st. Insert hook into the first and last row and work sl st across.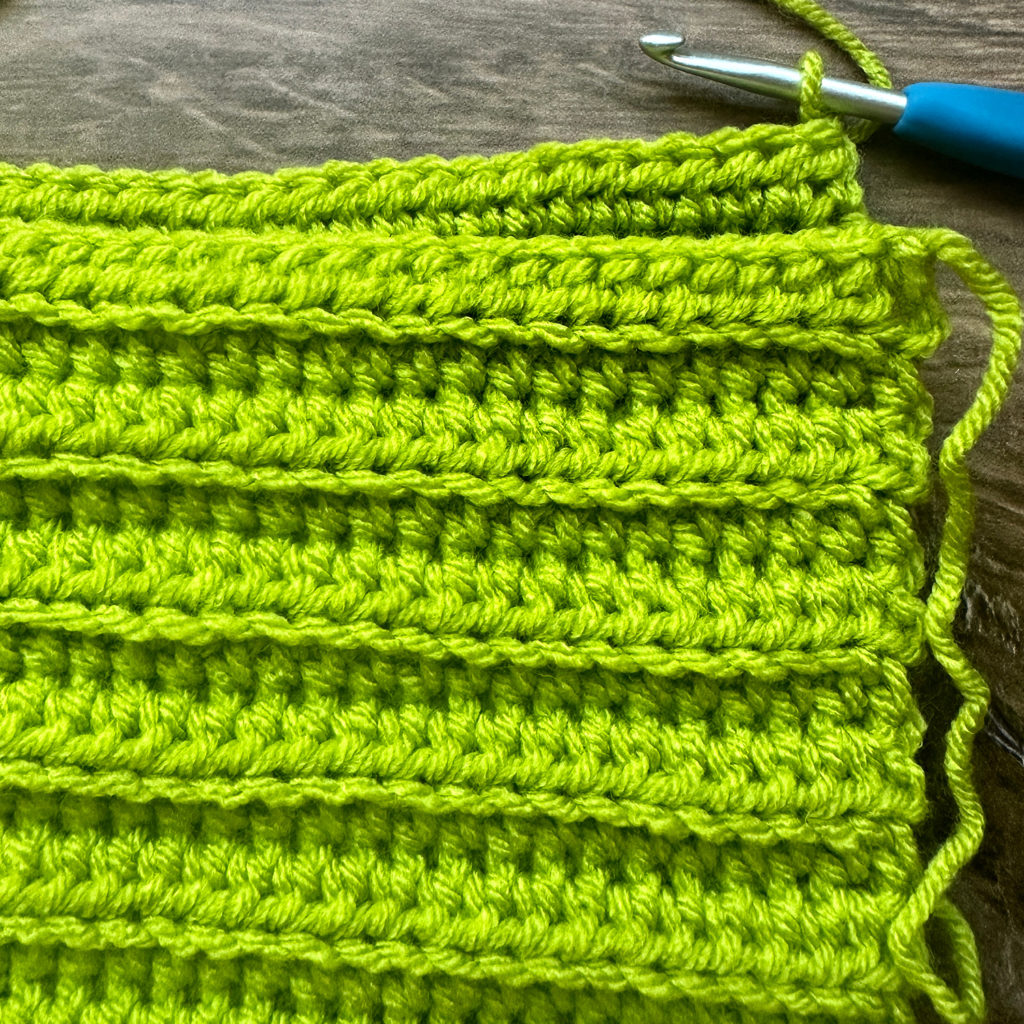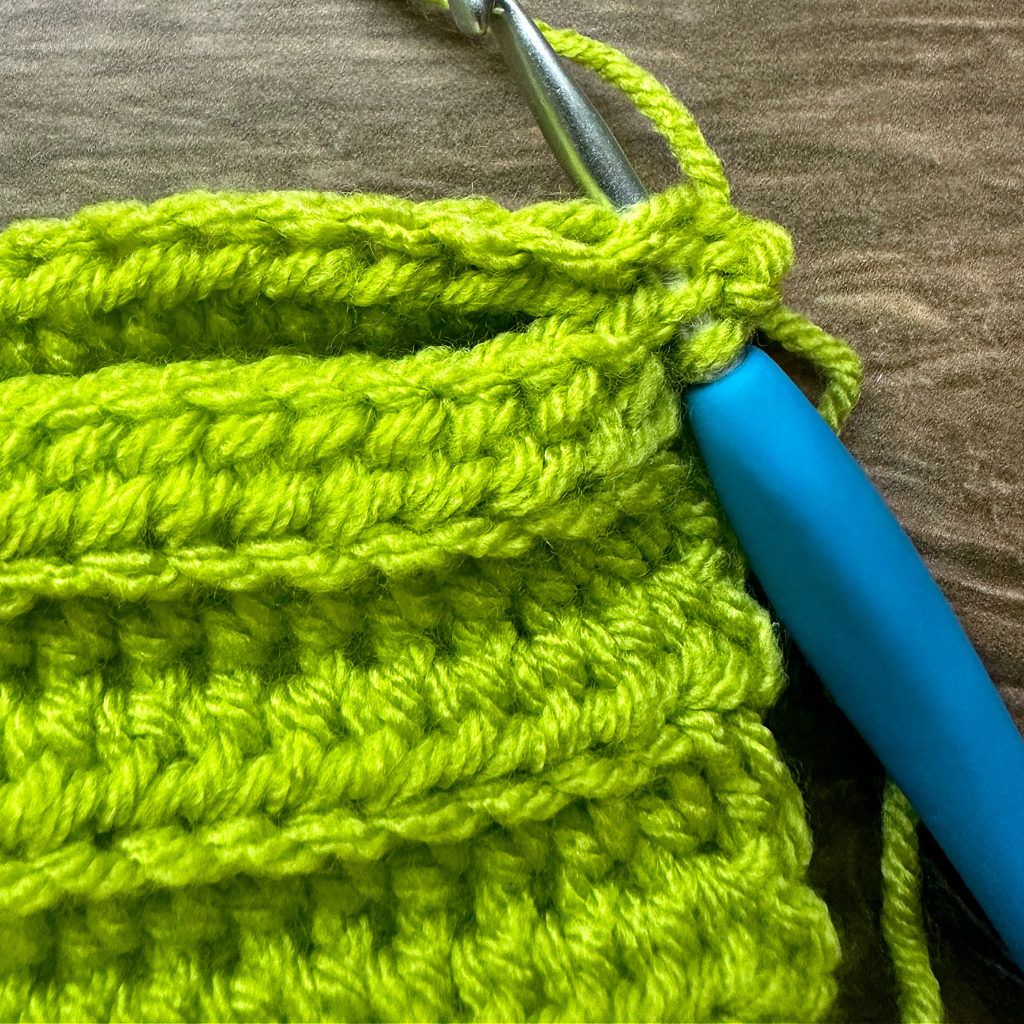 Now that it is a tube shape, work around the top in joined rounds.
Round 1: ch 1, sc in the end of each row around the top, join to first sc with sl st (39, (42), [49] sc)
Round 2: ch 1, sc2tog around, join to first sc with sl st (20, (21), [25] sc)
Fasten off. Leave a long end for sewing.
Using the yarn needle weave the end in and out around the top. Pull to cinch closed. Sew the top closed.
FLOWER
With pink, make a magic ring (leave a long end for sewing)
Round 1: ch 2, 12 dc in ring, pull ring closed tight, join to first dc with sl st (12 dc)
Round 2: ch 1, (hdc, 2 dc, 2 tr, 2 dc, hdc) all in first stitch, sc in next, *(hdc, 2 dc, 2 tr, 2 dc, hdc) in in next stitch, sc in next* repeat from * to * around, join to first hdc with sl st (6 petals)
Fasten off. Weave in last end.
FINISHING THE CACTUS
Cut about a 2" piece of white yarn. Pull it through a stitch in the beanie. Tie in a knot. Trim to your liking. Repeat at random around the beanie.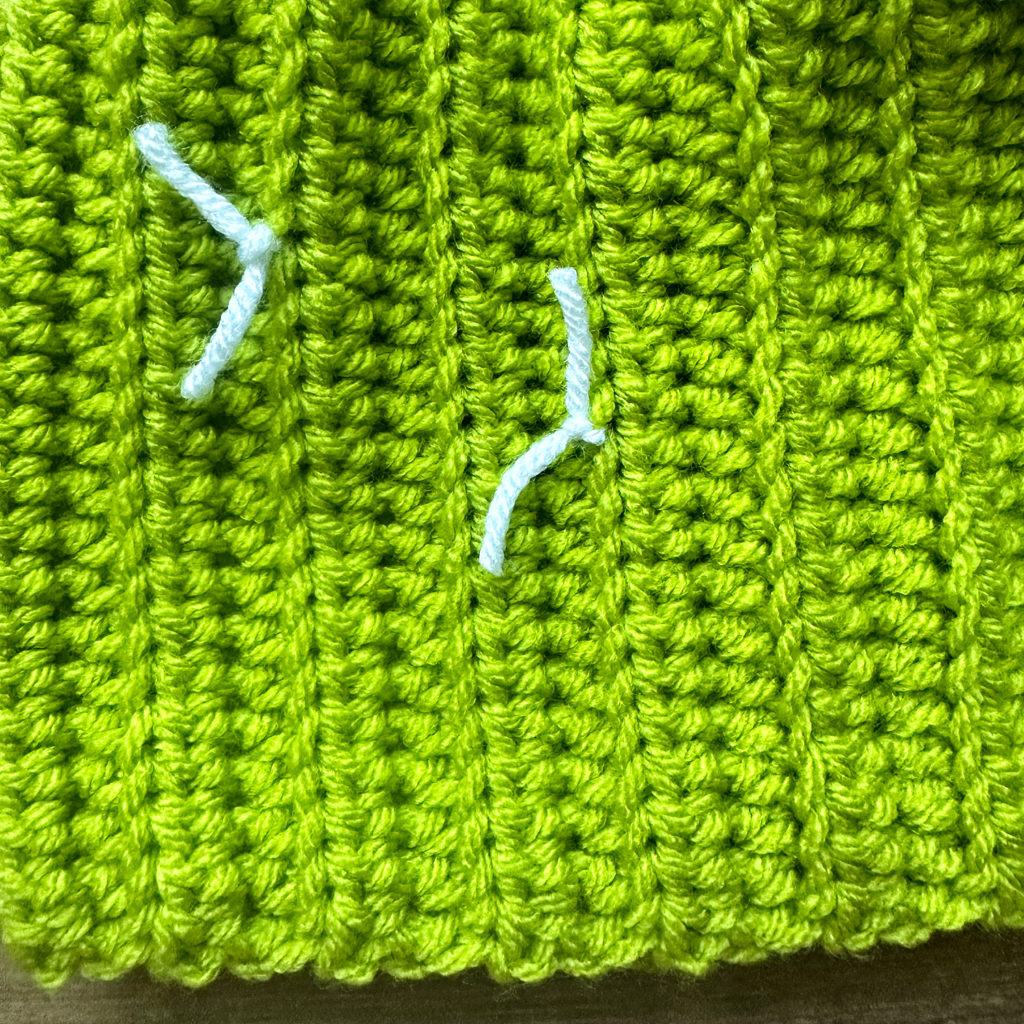 Sew the flower to the top.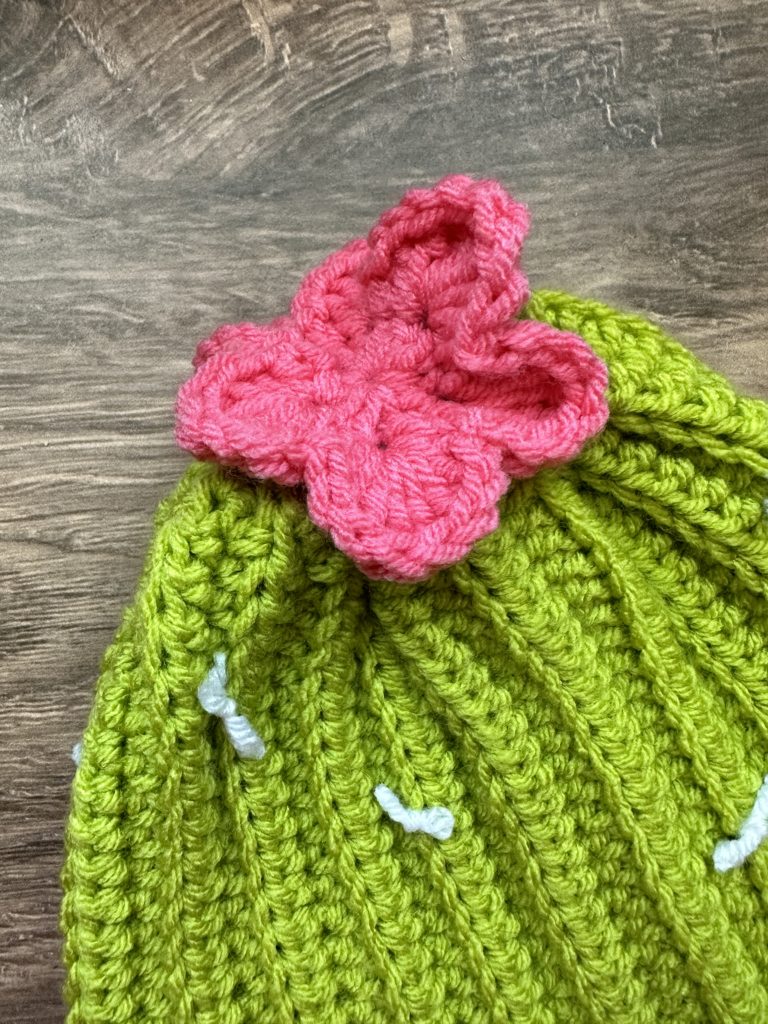 See you next week for the 6th pattern for the CAL for a Cause!
Looking for more patterns? Follow me on Facebook, Instagram, and Pinterest! Please share a pic of your finished product with me. I'd love to see it!