Today is part 2 of our Valentine's Day Wreath Crochet Along! Last week in Part 1 was the crochet wreath base. Today in part 2 I'm going to share the patterns for the flowers and leaves.
You can join my Facebook group here: https://www.facebook.com/groups/1974671912859520/ where you can share your progress, ask questions, and be inspired by fellow crocheters!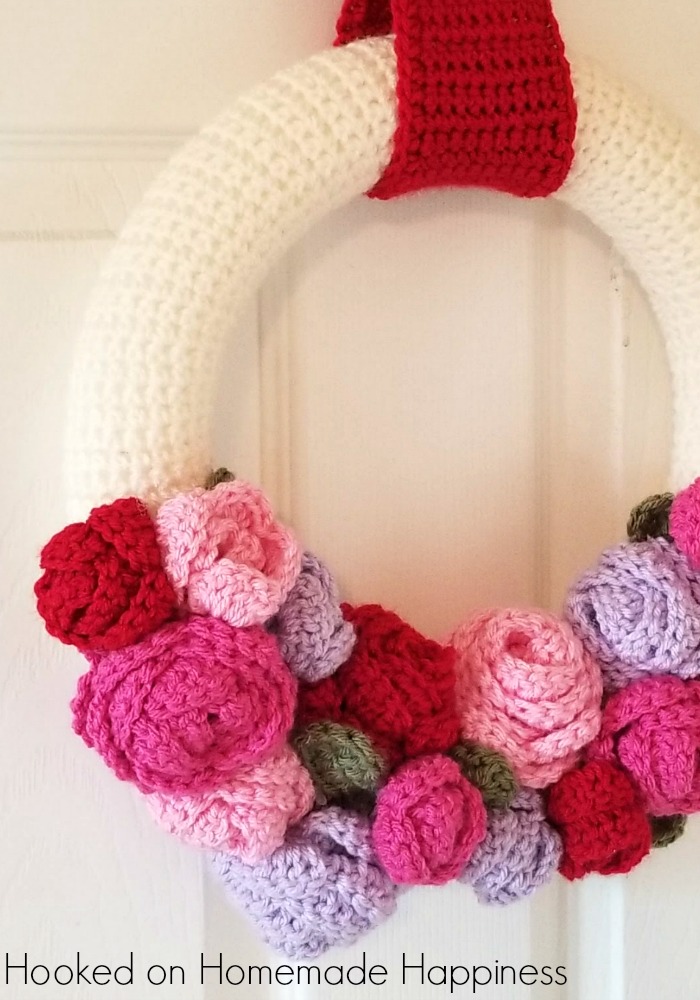 If you prefer to have the entire pattern at once, this pattern is available as an inexpensive, clearly formatted, PDF instant download in my Etsy shop or Ravelry Shop!
PATTERN
Materials for Part 2
Worsted weight yarn in red, purple, 2 shades of pink, and green (I used I Love This Yarn! in Red, Hot Rose, Pink, Orchid, and Light Sage)
H/5.0 mm hook
Yarn needle
Scissors
Level
Intermediate
Pattern Notes & Stitches to Know
Sl st – slip stich
Ch – chain
Sc – single crochet
Dc – double crochet
Hdc – half double crochet
FLOWERS
The flowers are 4 different colors (I used I Love This Yarn in Red, Hot Rose, Pink, Orchid)
The flowers are made in 3 different sizes. I made 4 large (1 in each color), 4 medium (1 in each color), and 8 small (2 in each color)
The pattern is the same for all 3 sizes, just the starting chain changes
Large Flower – ch 61, Medium Flower – ch 37, Small Flower – ch 19
Row 1: dc in 4th chain from hook, (ch 2, dc) all in same chain space, *skip 2 chains, (dc, ch 2, dc) all in next* repeat from * to * across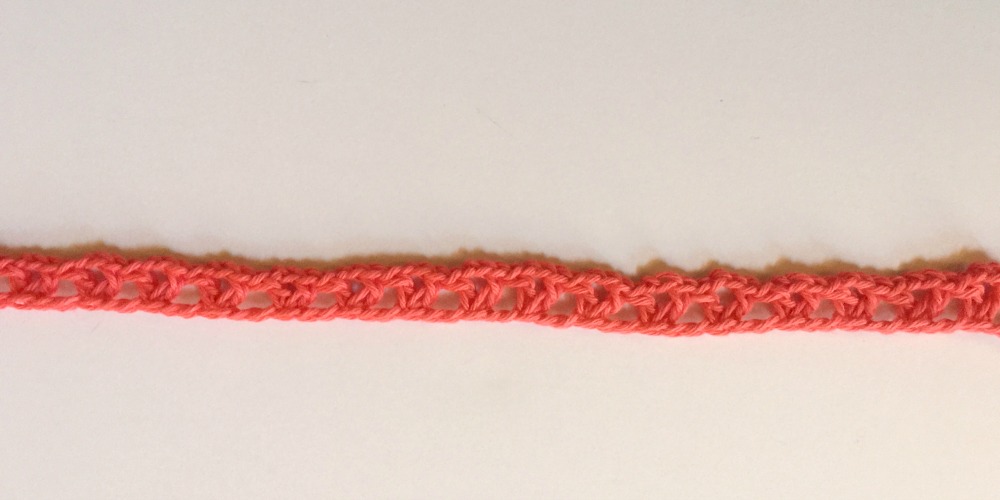 Row 2: ch 3 (counts as dc), turn, dc 4 into first ch 2 space, *sc in betweennext two dc, 5 dc in ch 2 space* repeat from * to * across, sc into top of first ch 3 from previous row
Fasten off, leave a long tail for sewing.
Roll it up like a rose. Try to keep the bottom lined up nice and tight.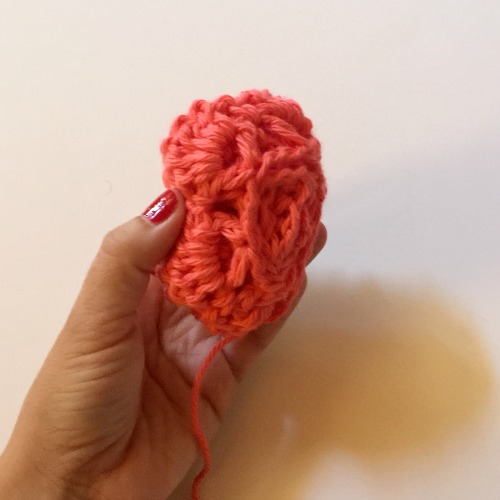 Using your yarn needle and the long tail for sewing, secure the bottom of the rose by weaving it through the bottom, making sure to get all the layers.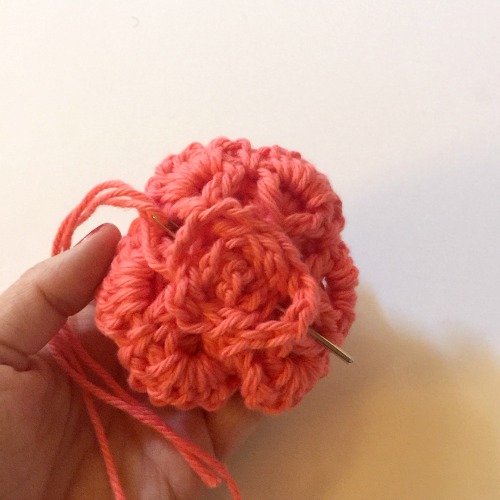 I continued weaving the end through until the end was almost gone. Fasten off, weave in all the ends.
LEAF (make 5)
Ch 10
Row 1: sc in 2nd ch from the hook, sc in next 2 chs, hdc in next 3 chs, dc in next 2 chs, 6 dc in next, (note: work the remaining stitches in the opposite side of the ch), dc in next 2 chs, hdc in next 3 chs, sc in last 3 chs, join to first sc with sl st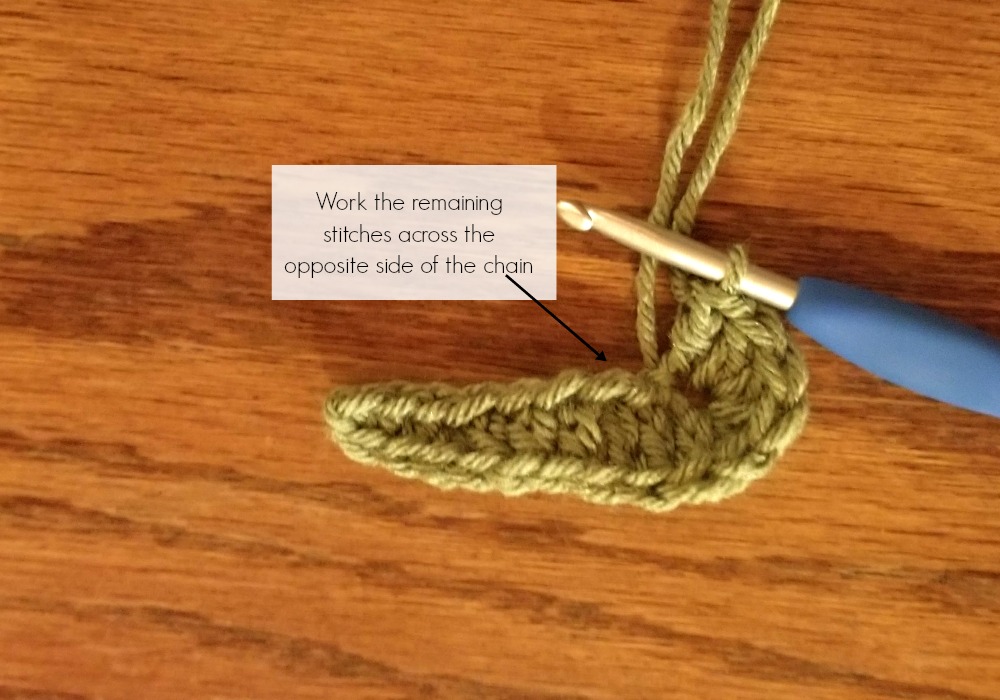 Fasten off, weave in the ends
Next week is the last week! We'll assemble the wreath and add the hanger. See you Monday the 22nd!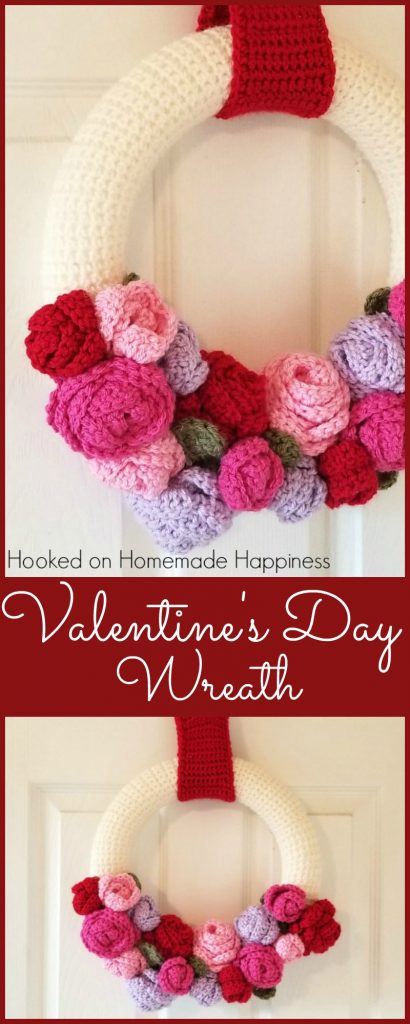 Looking for more patterns? Follow me on Facebook, Instagram, and Pinterest! Please share a pic of your finished product with me. I'd love to see it!

NEVER MISS A PATTERN!
Sign up for my newsletter and receive a FREE ebook with 3 of my favorite patterns PLUS patterns straight to your inbox. You'll also get a heads up about upcoming giveaways, events, and crochet alongs.
<