This cowl has such a neat texture and I love the thin contrasting stripe in this pattern. The textured ripple stitch is surprisingly easy to create!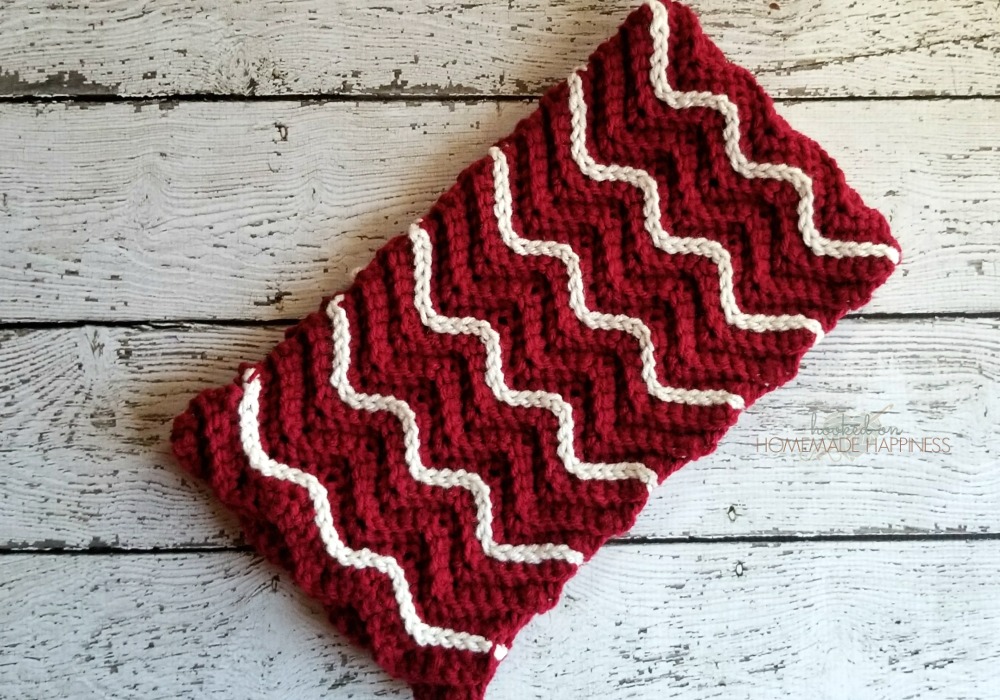 This cowl can be made in any length, but I wanted it small. It fits nice and cozily around the neck! I picked the colors for the holiday season. Doesn't this give so much holiday feels?!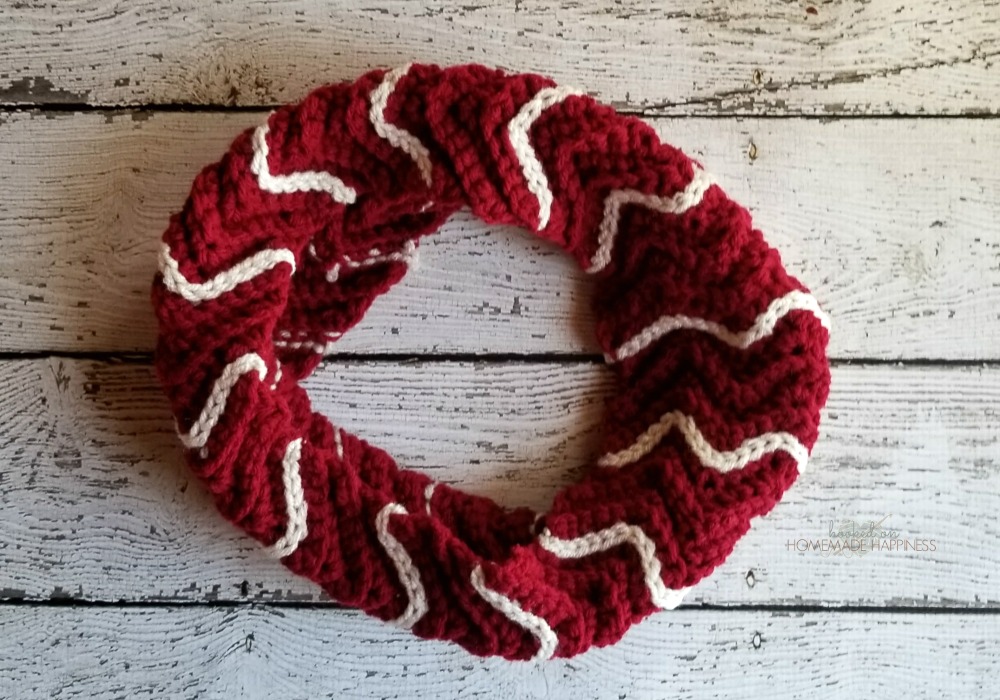 This pattern is available as an inexpensive, clearly formatted, PDF instant download HERE in my Etsy shop.
PATTERN
Materials
Red Heart Super Saver in Cranberry and Aran – any worsted weight (4) yarn in two colors will work
5.00 mm hook
Yarn needle
Scissors
Level
easy+
Pattern Notes & Stitches to Know
sl st – slip stitch
ch – chain
sc – single crochet
sc blo – single crochet in the back loop only
sc2tog – single crochet two together (insert hook into stitch, pull up a loop, insert hook into next stitch, pull up a loop, yarn over, pull through all loops on hook)
Finished Size:
7″ wide
26″ long before sewing the ends together
TEXTURED RIPPLE COWL
Find a detailed photo tutorial of the Textured Ripple Stitch >>>HERE<<<
Starting with Cranberry, ch 30
Row 1: sc in 2nd ch from the hook and in next 4, 3 sc in next, *sc in next 3, skip 2 stitches, sc in next 3, 3 sc in next* repeat from * to * to the last 5 stitches, sc in last 5 (31 sc)
Row 2: ch 1, turn, sc2tog blo, sc blo in next 4, 3 sc blo in next, *sc blo in next 3, skip next 2, sc blo in next 3, 3 sc blo in next* repeat from * to * across to the last 6 stitches, sc blo in next 4, sc2tog blo (31 sc blo)
Row 3 – 5: repeat row 2, fasten off cranberry (31 sc blo)
Change to Aran
Row 6: Working through both loops, loosely slip stitch through each stitch across, fasten off Aran
Change to Cranberry
Row 7: Work in the back loops of row 5, repeat row 2 (31 sc blo)
Repeat rows 2 – 7 for to row 84 (leave a long tail of cranberry in row 83 for sewing)
Fasten off, weave in the other ends.
Bring both ends together, matching up the ripples. Using your yarn needle and the long tail, whipstitch both ends together. Make sure to keep both ends lined up, you might need to double up on some stitches.
Fasten off, weave in the ends.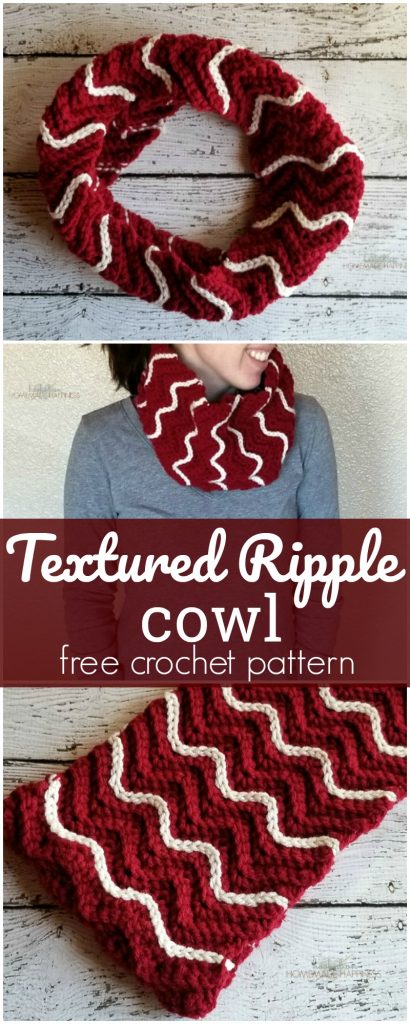 Looking for more patterns? Follow me on Facebook, Instagram, and Pinterest! Please share a pic of your finished product with me. I'd love to see it!

NEVER MISS A PATTERN!
Sign up for my newsletter and receive a FREE ebook with 3 of my favorite patterns PLUS patterns straight to your inbox. You'll also get a heads up about upcoming giveaways, events, and crochet alongs.