The holiday season is here!! I've made a list of some of my favorite things as a crocheter. So if you're looking for the perfect gift for a crocheter (or yourself!) Check these Gift Ideas for Crocheters out:
Clover Crochet Hooks
Clover hooks are hands down my favorite hooks! I've tried more expensive ones, but I always come back to these. I love the fit and the way they glide across the yarn. It's hooking perfection, I'm telling you! You can buy a set of smaller hooks like these
You can also get the larger hooks. These are my favorite because I find crocheting with a large hook very uncomfortable, so having these ergonomic hooks are essential.
You can also find them in this handy case
Yarn Needle
Yarn needles… because these bad boys get lost like nobody's business!
Scissors
I love these pretty scissors! They make weaving in all those ends a little bit more fun
Crochet Books
I have a couple books with crochet stitches and I love them! There are so many different stitches and I just want to know them all.
Yarn Tote
A yarn tote is a must have!! I love the quilted bags because of all the pockets and storage. Also because they're so pretty! The canvas bags with cute sayings are fun, too.
Crochet Humor
I just love these cute mugs and shirts! They make me giggle 😉
There you have it! A few gift ideas for a crocheter… or a few items to add to your wish list! I'm definitely adding one of those bags 😉 …and a mug… and maybe a shirt…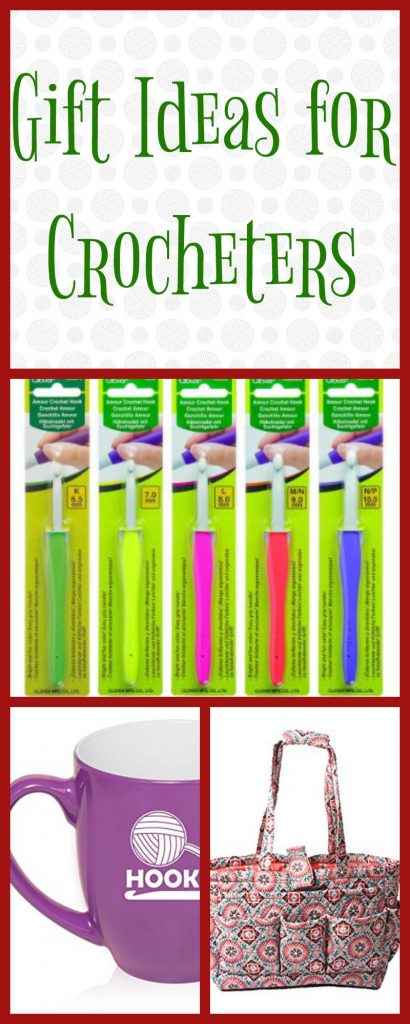 Looking for more patterns? Follow me on Facebook, Instagram, and Pinterest! Please share a pic of your finished product with me. I'd love to see it!

NEVER MISS A PATTERN!
Sign up for my newsletter and receive a FREE ebook with 3 of my favorite patterns PLUS patterns straight to your inbox. You'll also get a heads up about upcoming giveaways, events, and crochet alongs.